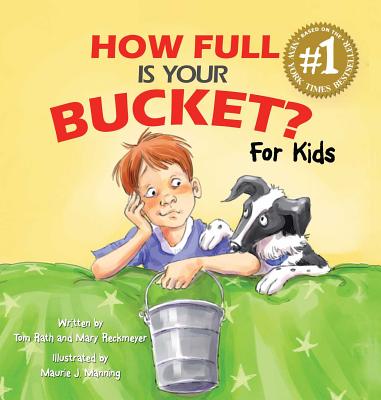 How Full Is Your Bucket? For Kids (Hardcover)
Gallup Press, 9781595620279, 32pp.
Publication Date: April 1, 2009
Other Editions of This Title:
Hardcover (8/10/2004)
Hardcover (3/9/2007)
Compact Disc (9/6/2016)
MP3 CD (1/3/2017)
MP3 CD (9/6/2016)
MP3 CD (11/1/2016)
Compact Disc (11/1/2016)
Compact Disc (1/1/2005)
* Individual store prices may vary.
Description
An illustrated adaptation of the long-running bestseller How Full Is Your Bucket? (more than 400,000 copies sold) for kids — told through the story of a boy who learns a valuable "bucket filling" metaphor and watches it come to life as the day unfolds.

Every moment matters.

Each of us has an invisible bucket. When our bucket is full, we feel great. When it's empty, we feel awful. Yet most children (and many adults) don't realize the importance of having a full bucket throughout the day.

In How Full Is Your Bucket? For Kids, Felix begins to see how every interaction in a day either fills or empties his bucket. Felix then realizes that everything he says or does to other people fills or empties their buckets as well.

Follow along with Felix as he learns how easy it can be to fill the buckets of his classmates, teachers and family members. Before the day is over, you'll see how Felix learns to be a great bucket filler, and in the process, discovers that filling someone else's bucket also fills his own.
About the Author
Tom Rath is one of the most influential authors of the last decade. He studies the role of human behavior in health, business and economics. Rath writes and speaks on a range of topics, from well-being to organizational leadership. He has written several international bestsellers, including the #1 New York Times bestseller How Full Is Your Bucket? In 2007, The Economist listed his book StrengthsFinder 2.0 as the top-selling business book worldwide. In total, Rath's books have sold more than 5 million copies, been translated in 16 languages and made over 250 appearances on the Wall Street Journal bestseller list. Rath is a senior scientist and advisor to Gallup, where he previously spent 13 years leading the organization's work on employee engagement, strengths and well-being. He has also served as vice chairman of the VHL cancer research organization.