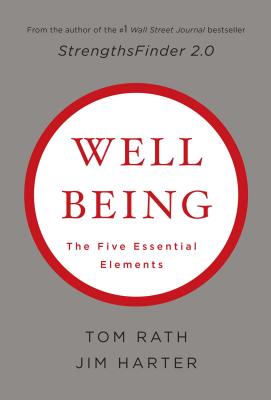 Wellbeing (Hardcover)
The Five Essential Elements
Gallup Press, 9781595620408, 240pp.
Publication Date: May 4, 2010
* Individual store prices may vary.
Description
From the #1 New York Times bestselling author Tom Rath (more than 2 million copies sold in the U.S.) and bestselling author Jim Harter, Ph.D., a wide-ranging book (based on a 150-country Gallup study) that will help readers improve their careers, relationships, finances, physical health and community wellbeing.

Over the past decade, Gallup has introduced the concepts of strengths-based development and employee engagement to more than 20 million people around the world — largely through the #1 Wall Street Journal bestseller StrengthsFinder 2.0 by Tom Rath and the New York Times bestseller 12: The Elements of Great Managing, which was coauthored by engagement expert Jim Harter. In Wellbeing: The Five Essential Elements, these bestselling authors team up to share the results of a landmark study of wellbeing and its implications for organizations and individuals.

Their groundbreaking research reveals how organizations can help employees boost their overall wellbeing — from their satisfaction with their careers to their financial security and level of community involvement. After conducting this extensive study, Rath and Harter discovered that much of what we think will improve our wellbeing is either misguided or just plain wrong. When striving to improve our lives, we're quick to buy into programs that promise to help us make money, lose weight or strengthen our relationships. While it might be easier to treat these critical areas in our lives as if they are independent, they're not. Gallup's comprehensive study of people in more than 150 countries revealed five universal, interconnected elements that shape our lives: Career Wellbeing, Social Wellbeing, Financial Wellbeing, Physical Wellbeing and Community Wellbeing.

Wellbeing: The Five Essential Elements provides you with a holistic view of what contributes to your wellbeing over a lifetime. Written in a conversational style, this book is filled with fascinating research and innovative ideas for boosting your wellbeing in each of these five areas. As a complement to the book, you'll have the opportunity to use Gallup's online Wellbeing Finder to track and improve your wellbeing. By the time you finish reading this book, you'll have a better understanding of what makes life worthwhile. This will enable you to enjoy each day and get more out of your life — while boosting the wellbeing of your friends, family members, colleagues and others in your community.
About the Author
Tom Rath is one of the most influential authors of the last decade. He studies the role of human behavior in health, business and economics. Rath writes and speaks on a range of topics, from well-being to organizational leadership. He has written several international bestsellers, including the #1 New York Times bestseller How Full Is Your Bucket? In 2007, The Economist listed his book StrengthsFinder 2.0 as the top-selling business book worldwide. In total, Rath's books have sold more than 5 million copies, been translated in 16 languages and made over 250 appearances on the Wall Street Journal bestseller list. Rath is a senior scientist and advisor to Gallup, where he previously spent 13 years leading the organization's work on employee engagement, strengths and well-being. He has also served as vice chairman of the VHL cancer research organization.