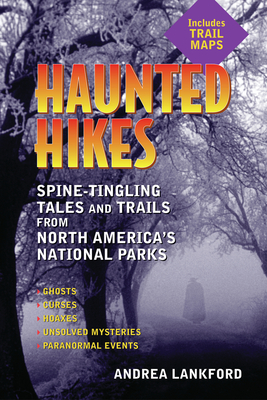 Haunted Hikes
Spine-Tingling Tales and Trails from North America's National Parks
Paperback

* Individual store prices may vary.
Description
Ghosts Curses Hoaxes Unsolved mysteries Paranormal events Take a walk on the creepy side of North America's National Parks Andrea Lankford, a 12-year veteran ranger with the National Park Service, has written a thoroughly investigated yet often tongue-in-cheek guidebook that takes the reader to the scariest, most mysterious places inside North America's National Parks. Lankford shares such eerie tales as John Brown's haunting of Harper's Ferry, the disembodied legs that have been seen running around inside the Mammoth Cave Visitor Center, and the wailing woman who roams the trail behind the Grand Canyon Lodge. Lankford also uncovers paranormal activities park visitors have experienced, such as the chupacabra that roams the swamps inside Big Thicket National Preserve and the teenage bigfoot who rolled a park service campground with toilet paper. She also reports on long-forgotten unsolved murders, such as the savage stabbing of a young woman on Yosemite's trail to Mirror Lake, and the execution style shooting of two General Motors executives at Crater Lake. The witnesses to the supernatural occurrences are highly credible people-rangers, park historians, river guides, and the like-and each tale has factual relevance to the cultural or natural history of the park. Haunted Hikes provides readers with all the information they need: for each hike: a fright factor rating is listed along with trailhead access information, detailed trail maps, and hike difficulty levels. Most of the haunted sites included in the book can be reached by the average hiker, some are wheelchair accessible, and others are for intrepid backpackers willing to make multi-day treks into wilderness areas. Intriguing photographs of many sites are included. Haunted Hikes is sure to satisfy readers looking for those spine-tingling moments when you begin to wonder if maybe, just maybe, we are not alone.
Santa Monica Press, 9781595800091, 373pp.
Publication Date: April 1, 2006
About the Author
Andrea Lankford, a former National Park Service ranger, has performed firefighting, law enforcement, and life-saving wilderness medicine in Cape Hatteras, Zion, Yosemite, and the Grand Canyon. As a ranger, she won several awards for her work as a criminal investigator, and she implemented the Heat Kills. Hike Smart public education program that generated media attention and is credited with preventing heat-related deaths at the Grand Canyon-a program that continues to save lives today. Her masochistic adventures include thru-hiking the entire Appalachian Trail, kayaking from Miami to Key West, cycling from Fairbanks to the Arctic Ocean, and being the first to mountain bike the 800-mile Arizona Trail. Haunted Hikes is her third book. Andrea currently lives in Southern California with her skeptic husband, a Special Agent for the United States Secret Service.
or
Not Currently Available for Direct Purchase