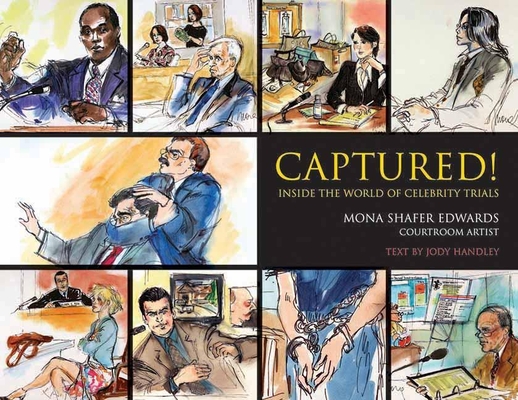 Captured!: Inside the World of Celebrity Trials (Paperback)
Inside the World of Celebrity Trials
Santa Monica Press, 9781595800114, 183pp.
Publication Date: April 1, 2006
Description
Michael Jackson. McMartin Preschool. Heidi Fleiss. Richard "The Night Stalker" Ramirez. The Menendez Brothers. Robert Blake. Courtney Love. Winona Ryder. Rodney King. O.J. Name a high-profile trial over the past 25 years and Mona Shafer Edwards was most likely seated in the courtroom with her markers, pens, and large pad of vellum paper, illustrating the proceedings. Edwards' courtroom illustrations are beautiful pieces of art that capture the most poignant and thrilling moments of major celebrity trials in stunning bursts of color. Captured not only includes Edwards' brilliant artwork, but her fascinating insider observations on the trials as well. Each case features a recap of all of the highlights and lowlights of the trial, a summary of the verdict, and an overview of both the participant's and the public's reaction to the final decision.
About the Author
Mona Shafer Edwards is a courtroom artist whose illustrations have been featured on programs and networks such as 20/20, A&E Biography, ABC, CNN, and Entertainment Tonight, and in numerous publications, including Entertainment Weekly, Los Angeles Times, and Newsweek. Edwards has also created feature film storyboards and sketch art for such films as Moulin Rouge and has taught fashion sketching classes at U.C.L.A. and other academic institutions. Jody Handley is an editorial consultant and a former editor for Warner Books. A playwright, she also serves as Producing Director of the Playwrights' Center of San Francisco.
Advertisement