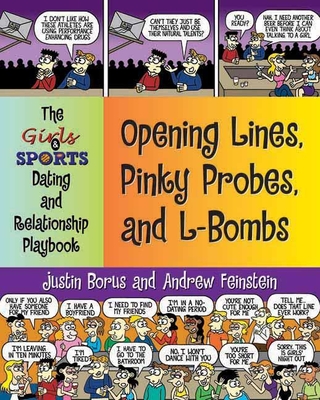 Opening Lines, Pinky Probes, and L-Bombs
The Girls & Sports Dating and Relationship Playbook
Paperback

* Individual store prices may vary.
Description
The comic strip, Girls & Sports, currently appears in over 150 mainstream newspapers and 75 college newspapers nationwide, including the New York Daily News, the Denver Post, the Pittsburgh Tribune-Review, and many more. Girls & Sports has even become a hit in Stars and Stripes, the newspaper distributed to the United States military worldwide. The comic strip now reaches over six million readers daily through the prominent Creators Syndicate.
For their first full color, book-length work, creators Justin Borus and Andrew Feinstein chose to fearlessly tackle the issues most important to single people, including dating, sports, relationships, the bar scene, working out, parties, vacations, and much more.
Opening Lines, Pinky Probes and L-Bombs: The Girls & Sports Dating and
Relationship Playbook treats readers to an honest and humorous look at dating and relationships. This smorgasbord of advice features charts, graphs, pithy observations, not-so-obvious truisms, and sports-influenced strategies.
The book covers the whole cycle of a relationship, from Getting the Night Started and Scouting the Prospects to First Dates and Going All the Way to The Serious Relationship and Getting Out of the Game (i.e. getting married). Fans of the strip and new readers alike will love this irreverent guide to all that is girls . . . and sports.
Santa Monica Press, 9781595800152, 144pp.
Publication Date: October 28, 2006
About the Author
Justin Borus's extensive "research" for the Girls & Sports comic strip is done on location in fertile environments for new material, including dingy bars, exotic nightclubs, blind dates and serious relationships. Borus currently lives in Denver and will continue to spend his time investigating the intricacies of dating, relationships and sports until these great cosmic mysteries are solved. Andrew Feinstein currently resides in Los Angeles where he previously worked in the animation department for Warner Bros. Feinstein has also worked for Turner Sports, Cartoon Network, and Nickelodeon. When he's not sitting at his drawing table penciling the next Girls & Sports comic strip, Feinstein spends his time lining up a date for Friday night, watching lots of sporting events and tirelessly practicing his jump shot, which, like his dating skills, still needs much improvement.