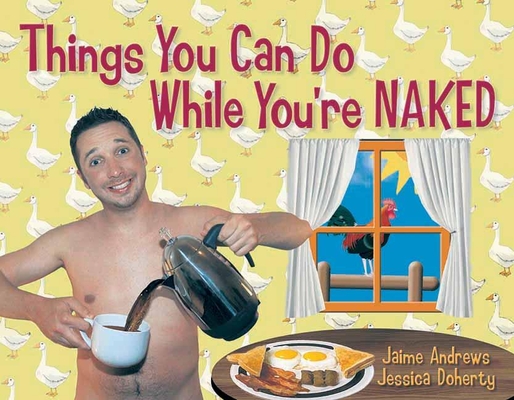 Things You Can Do While You're Naked
Paperback

* Individual store prices may vary.
Description
"Things You Can Do While You're Naked" is a simple how-to guide for everyday tasks--except that these tasks are all done in the nude The book is divided up into the following sections:
- For the Naked Chef
- For the Naked Housekeepers
- For the Naked Businessman
- For the Naked Sports Enthusiast
- For the Naked Handyman
- For the Naked Fitness Guru
- For the Naked Man of Leisure
- For the Naked Romantic
- Random Acts of Nakedness
You'll howl with laughter as you look at photo collages of Naked Guy while he shares his tips and techniques for "Naked Shadow Puppeteering," "Naked Cleaning Your Hunting Gun," "Naked Texas Hold 'em," "Naked BBQ'ing," "Naked Knitting," "Naked Pilates," "Naked Vacuuming," "Naked Filing," "Naked Tax Evasion," "Naked Crown Molding Installation," 'Naked Aromatic Candle Lighting," and "Naked Ordering Take-Out."
"Things You Can Do While You're Naked" entices readers to laugh not only at the pictures, but also at themselves. In a society filled with images of perfect-figured models and individuals obsessed with diets, the book reminds people to not take their bodies too seriously. The Naked Guy featured in the book is an "average Joe," whose ability to be comfortable in his own skin contributes enormously to the humorous tone of the book. People of all shapes and sizes will easily laugh at Naked Guy doing everyday activities in the nude.
Santa Monica Press, 9781595800169, 112pp.
Publication Date: January 1, 2007
About the Author
Starting at the young age of thirteen, Jaime Andrews and Jessica Doherty have dedicated their lives to shedding light on important world matters through their creative writing endeavors. They have focused their passion on such topics as: - World peace - Global warming - International disease epidemics Despite the magnitude of these issues, Andrews and Doherty have now decided to tackle the biggest issue of all: NAKEDNESS. Much like global warming, people's fear of nakedness is plaguing modern day society. Through Things You Can Do While You're Naked, these distinguished authors hope to trigger a new revolution--Naked Freedom!
or
Not Currently Available for Direct Purchase