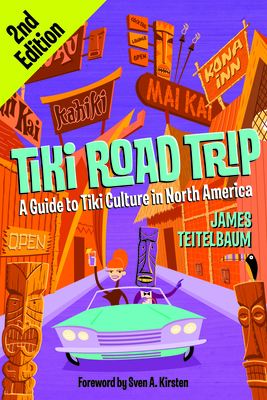 Tiki Road Trip (Paperback)
A Guide to Tiki Culture in North America
Santa Monica Press, 9781595800190, 359pp.
Publication Date: May 28, 2007
* Individual store prices may vary.
Description
The 2nd edition of "Tiki Road Trip" has been completely updated, expanded, and globalized. The bestand onlyguide to Polynesian pop culture, written by Tiki expert and urban archaeologist James Teitelbaum, now contains even more listings and reviews of Tiki bars and Polynesian restaurants, even more photographs, and even more drink recipes. The International listings have been expanded as well, and the Hawaiian glossary is much more comprehensive. All in all, the second edition of "Tiki Road Trip" is a superior refinement of what was already an indispensable book for followers of the ever-growing Tiki movement.
From Tiki godfathers Don the Beachcomber and Trader Vic to classic Exotica favorites Martin Denny and Les Baxter to contemporary Tiki artists Shag and Bosko, this resource covers everything Tiki in prose that is witty, entertaining, and essential for anyone who has ever stepped up to a bar, glanced up at the pufferfish hanging from the ceiling, and ordered a Singapore Sling.
In addition to the exhaustive listings, recipes for classic Tiki cocktails, a glossary of Tiki terms, and resources for buying Tiki goods and artifacts are also included. Reminiscences of famous points of interest that have closed are provided for the completist, for historical perspective, and for those seeking information on the current status of a favorite Tiki site which may have closed.
So slip on your grass skirt or Aloha shirt, because "Tiki Road Trip" is going to take you on a tour of the Tiki universe that will make waves from the shores of Rapa Nui to the beaches of Oahu
About the Author
James Teitelbaum has been a leading figure in the Tiki revival since the early 1990s. He launched the venerable Tiki Bar Review Pages website early in 1995 and has been the been involved in the production (to varying degrees) of Tiki events such as Exotica 2000, Exotica 2003, Tabu Tiki Nights (monthly in 2004 and 2005), and Hukilau 2005 and 2006. He lives in Chicago, where he works in the music industry, writes, and teaches. Sven A. Kirsten is the author of The Book of Tiki and Tiki Modern (Taschen). Shag is an internationally renowned artist and illustrator, whose paintings are coveted by Hollywood celebrities and Tiki-files alike. Aside from creating a line of popular retro-themed merchandise, he is the creator of The Art of Shag, Shag: The Art of Josh Agle, and the illustrator for Tiki Drinks, Night of the Tiki, and Shag Party.
or
Not Currently Available for Direct Purchase