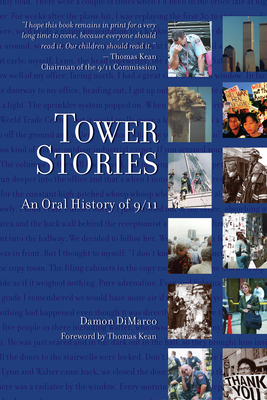 Tower Stories (Hardcover)
An Oral History of 9/11
Santa Monica Press, 9781595800213, 524pp.
Publication Date: August 1, 2007
* Individual store prices may vary.
Description
Damon DiMarco's "Tower Stories: An Oral History of 9/11" eternally preserves a monumental tragedy in American history through the voices of the people who were in Lower Manhattan and elsewhere in New York City on that fateful day.
The stories DiMarco has collected come from a diverse group of human beings: individuals who managed to escape from the Towers; the bereaved of 9/11; the policemen, firemen, paramedics, reporters, and volunteers who risked their lives to help others; eyewitnesses who stood in shock on the streets below the Towers; WTC structural engineers, political experts, political dissidents, small business owners, and, of course, children whose lives will be forever impacted by the horror and chaos they witnessed.
In the tradition of Studs Terkel, DiMarco's moving oral history chronicles the stories of everyone from the small group of people who miraculously made it safely down from the 89th floor of Tower 1 to the New York Times reporter trying desperately to fight her way through the fleeing crowds into Lower Manhattan, to the paramedic who set up a triage area 200 yards from the base of the Towers before they collapsed to the ordinary citizens of New York City who tried to get on with their lives in the days following the tragic event.
This expanded second edition of DiMarco's literary time capsule includes follow-up interviews that track contributors' lives in the years since 9/11, as well as dozens of never-before-published photographs.
About the Author
Damon DiMarco's oral histories include Heart of War: Soldiers' Voices from the Front Lines of Iraq, a collection of first person narratives from U.S. veterans of the War in Iraq. DiMarco also collaborates on biographies, having penned Out of Bounds with Roy Simmons, the first former NFL player to publicly announce that he is HIV positive; and The Actor's Art & Craft with William Esper, an exploration and elaboration on the famous acting techniques pioneered by legendary acting teacher Sanford Meisner (forthcoming from Random House in fall of 2007). DiMarco currently teaches in the theatre arts department of Drew University. He lives in New York City. Thomas Kean is the chairman of the 9/11 Commission.
or
Not Currently Available for Direct Purchase