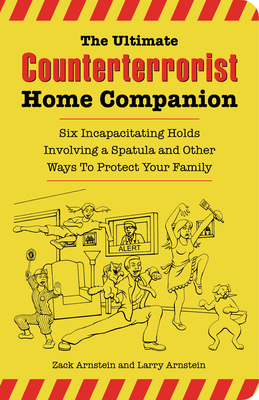 The Ultimate Counterterrorist Home Companion
Six Incapacitating Holds Involving a Spatula and Other Ways to Protect Your Family
Paperback

* Individual store prices may vary.
Description
Zack and Larry Arnstein offer this humorous guide containing helpful advice to help readers combat terrorism. Also included is a section for teens, including tips such as what to do at a party when invited to join in a terrorist attack, especially when that's what all the cool kids are doing.
Santa Monica Press, 9781595800251, 165pp.
Publication Date: September 1, 2007
About the Author
Larry Arnstein worked at the CIA as an undercover agent for many years until his cover was blown by Dick Cheney after a shouting match at a pickup basketball game. Currently, he holds the Dennis Rodman Chair of National Securities Studies at Borden State University, where he is a Visiting Professor of Panic. Zack Arnstein has personally killed over eight terrorists that he found in his own neighborhood. Or at least he thinks they were terrorists. . . . He's pretty damn sure, actually. Yeah, they definitely had to be terrorists. Probably. He is currently completing his doctorate, also at Borden State, in epiosteemiology. This is their third book. While they have a common last name, they are not related, nor do they interact socially.