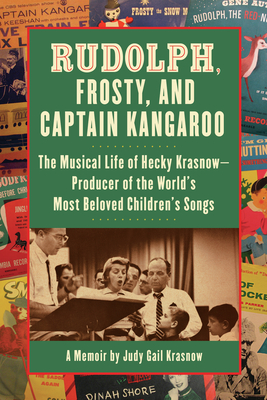 Rudolph, Frosty, and Captain Kangaroo
The Musical Life of Hecky Krasnow: Producer of the World's Most Beloved Children's Songs
Hardcover

* Individual store prices may vary.
Description
Rudolph, Frosty, and Captain Kangaroo is a memoir by Judy Gail Krasnow about her father, Hecky Krasnow, the producer of such classic children's records and holiday tunes as "Rudolph, the Red-Nosed Reindeer," "Frosty the Snowman," "I'm Gettin' Nuttin' for Christmas," "Peter Cottontail," "Suzy Snowflake," "I Saw Mommy Kissing Santa Claus," "The Captain Kangaroo March," "Smokey the Bear," "Davy Crockett," "Little Red Monkey," and "The Little Engine That Could." The book includes remembrances of Hecky Krasnow's working relationships with such legendary artists as Gene Autry, Rosemary Clooney, Dinah Shore, Nina Simone, Art Carney, Jos Ferrer, Burl Ives, Arthur Godfrey, and Captain Kangaroo. In addition to his profound influence on the children's record industry--an enormous business during the mid-twentieth century--Hecky also produced, wrote, or engineered such adult fare as Rosemary Clooney's "Come On-a My House" and "Me and My Teddy Bear"; Nina Simone's classic album The Amazing Nina Simone; and the landmark Chad Mitchell Trio debut, The Chad Mitchell Trio Arrives Set against the dramatic backdrop of McCarthyism, the Cold War, the Civil Rights Movement, and the birth of television and rock and roll, Rudolph, Frosty, and Captain Kangaroo is rich in anecdotes about the politics and history of the era, the stars Hecky produced, and an array of talented composers and conductors with whom Hecky collaborated, including Mitch Miller, Johnny Marks, Percy Faith, J. Fred Coots, Tommy Johnson, Sir Thomas Beecham, Rudolph Goehr, Andr Kostelanetz, and Arthur Fiedler.
Santa Monica Press, 9781595800268, 408pp.
Publication Date: November 1, 2007
About the Author
Judy Gail Krasnow is a professional storyteller, historical portrayal artist, Chautauqua scholar, singer-songwriter, speaker, and author. The younger daughter of Hecky Krasnow, Judy was often at her father's side as he produced quality records for children. She sang backup and acted on many of Hecky's projects with stars of the era, such as Captain Kangaroo and Art Carney, and even once performed on the legendary Ed Sullivan Show. She lives in Jackson, Michigan and Miami, Florida.
or
Not Currently Available for Direct Purchase