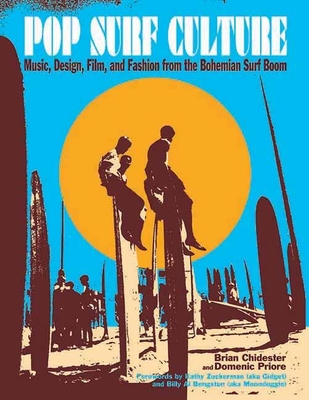 Pop Surf Culture
Music, Design, Film, and Fashion from the Bohemian Surf Boom
Hardcover

* Individual store prices may vary.
Description
From original beachcomber personalities like the Waikiki Beachboys to the rise of Venice Beach as a creative center for music, art, and film, "Pop Surf Culture" traces the roots of the surf boom and explores its connection to the Beat Generation and 1960s pop culture. Through accounts of key figures both obscure and popular, the book illustrates why surf culture is a vital art movement of the 20th century.
"Pop Surf Culture" includes essays about the popular "beach" movies of the 1950s and '60s, which featured such stars as Annette Funicello and Frankie Avalon and the music of Dick Dale & His Del-Tones, Brian Wilson, the Pyramids, Gary Usher, James Brown, and Little Stevie Wonder.
Sixties art figures Michael Dormer and Rick Griffin--as well as the surf magazines which promoted their art--are featured alongside the progenitors of "surf music," from the little known (the Centurians) to the wildly popular (the Beach Boys). Duke Kahanamoku, the Gas House, Gidget, surfing on television, the bohemian surf aesthetic, surf music hot spots, Mickey "Da Cat" Dora . . . the entire spectrum of pop surf culture is covered within these colorfully illustrated pages.
Santa Monica Press, 9781595800350, 271pp.
Publication Date: November 15, 2008
About the Author
Brian Chidester is a staff editor for Yahoo.com and the co-editor of Dumb Angel #4: All Summer Long. He has been a segment producer for documentaries by the BBC, PBS, Showtime, and the Carl Wilson Foundation. Domenic Priore is the author of Riot on Sunset Strip: Rock 'n' Roll's Last Stand in Hollywood, Beatsville (with Martin McIntosh), and Smile: The Story of Brian Wilson's Lost Masterpiece. He has written documentaries for Paramount Pictures Inc. and American Movie Classics (AMC). Kathy Zuckerman is the real life inspiration for the fictional character of Franzie "Gidget" Lawrence from the 1957 novel, Gidget, written by her father Frederick Kohner. She was named No. 7 in Surfer Magazine's 25 Most Influential People in Surfing. She lives in Pacific Palisades, California. Billy Al Bengston is an American artist and sculptor who lives and works in Venice, California. His work is found in many public and private collections, including the Centre Georges Pompidou (Paris), LACMA, MOCA (Los Angeles), MOMA (New York), Solomon R. Guggenheim Museum (New York), The Corcoran Gallery of Art (Washington, D.C.), and the Whitney Museum of American Art (New York). Less famously, he is/was the original "Moondoggie."
or
Not Currently Available for Direct Purchase