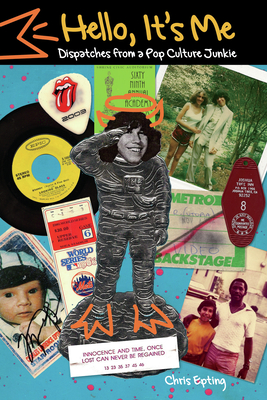 Hello, It's Me (Paperback)
Dispatches from a Pop Culture Junkie
Santa Monica Press, 9781595800534, 335pp.
Publication Date: July 1, 2010
* Individual store prices may vary.
Description
In "Hello, It's Me," pop culture historian Chris Epting celebrates the cultural touchstones of the past 40 years--the music, movies, television, hobbies, and fads that have defined recent generations.
Whether it's shooting hoops with NBA legend Elgin Baylor, drinking whiskey in a Radio City Music Hall broom closet with Ron Wood and Rod Stewart while thousands of fans scream from below, sharing a milkshake with Jerry Lewis, running into Alfred Hitchcock's stomach as a young child, or jumping on a trampoline with Sally Struthers, Chris Epting takes us on his own strange trip through time, space and hula hoops.
Beginning in the 1970s and continuing through the 1980s, 1990s, and up to the present day, Epting writes about the humorous, ironic, poignant, and inspiring moments he's experienced with a host of pop-culture icons--Mick Jagger, Keith Richards, Jay Leno, Johnny Thunders, Edward Albee, John Cheever, Milton Berle, etc.--as well as his personal memories of the era's most famous pop-culture fads, products, and gimmicks--Pet Rocks, lava lamps, mood rings, 8-track tapes, bootleg records, Zotz, halter tops, strawberry wine. . . .
About the Author
Chris Epting is the author of numerous books, including James Dean Died Here, Led Zeppelin Crashed Here, Marilyn Monroe Dyed Here, Roadside Baseball, and The Ruby Slippers, Madonna's Bra, and Einstein's Brain. He has contributed articles to such publications as the Los Angeles Times, Westways, Travel + Leisure and Preservation magazine. Epting is also the national spokesperson and consultant for Hampton Inn's Save-a-Landmark program, which recently won the Preserve America Presidential Award. He lives in Huntington Beach, California, with his wife and their two children. Seth Swirsky is an American pop music songwriter, author, recording artist and noted baseball memorabilia collector. He is the author of Baseball Letters: A Fan's Correspondence with His Heroes and Every Pitcher Tells a Story: Letters Gathered by a Devoted Fan. He is also completing a unique documentary of the Beatles, A Year in the Life, which consists of interviews with people who have a story about themselves and the Beatles.