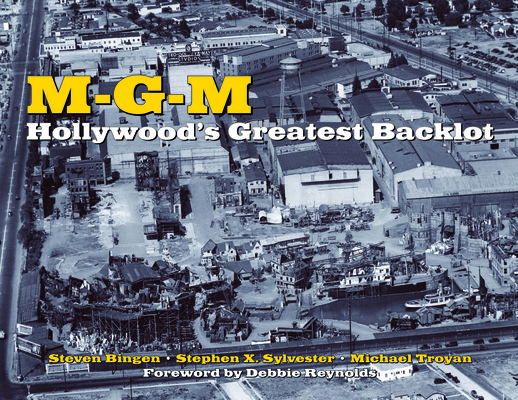 MGM
Hollywood's Greatest Backlot
Hardcover

* Individual store prices may vary.
Description
"M-G-M: Hollywood's Greatest Backlot" is the illustrated history of the soundstages and outdoor sets where Metro-Goldwyn-Mayer produced many of the world's most famous films. During its Golden Age, the studio employed the likes of Garbo, Astaire, and Gable, and produced innumerable iconic pieces of cinema such as "The Wizard of Oz, Singin' in the Rain," and "Ben-Hur."
It is estimated that a fifth of all films made in the United States prior to the 1970s were shot at MGM studios, meaning that the gigantic property was responsible for hundreds of iconic sets and stages, often utilizing and transforming minimal spaces and previously used props, to create some of the most recognizable and identifiable landscapes of modern movie culture.
All of this happened behind closed doors, the backlot shut off from the public in a veil of secrecy and movie magic. "M-G-M: Hollywood's Greatest Backlot" highlights this fascinating film treasure by recounting the history, popularity, and success of the MGM company through a tour of its physical property.
Featuring the candid, exclusive voices and photographs from the people who worked there, and including hundreds of rare and unpublished photographs (including many from the archives of Warner Bros.), readers are launched aboard a fun and entertaining virtual tour of Hollywood's most famous and mysterious motion picture studio.
Santa Monica Press, 9781595800558, 312pp.
Publication Date: February 25, 2011
About the Author
Steven Bingen is the author of Warner Bros.: The Stuff That Dreams Are Made Of and has contributed to numerous books, documentaries, and magazines. He holds a staff position at Warner Bros. Corporate Archive, aiding in the preservation and management of the studio's legend and legacy. Stephen X. Sylvester is a filmmaker and historian who was lucky enough to have explored MGM's legendary backlots in 1968 and 1975. Michael Troyan is the author of A Rose for Mrs. Miniver: The Life of Greer Garson and has contributed to Disney A-Z, The Disney Villains, and The Disney Poster Book.
or
Not Currently Available for Direct Purchase