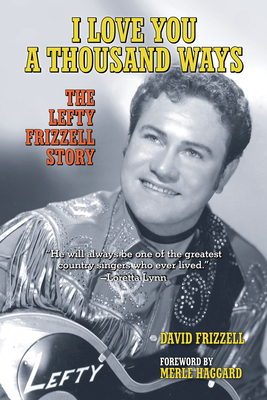 I Love You a Thousand Ways
The Lefty Frizzell Story
Hardcover

* Individual store prices may vary.
Description
"I Love You a Thousand Ways" is the story of one of the most loved, respected, and imitated singer/songwriters in the history of country music, a man whose songs touched the lives of millions of people. Lefty Frizzell's relaxed style of singing proved to be a huge influence on a wide variety of country and pop music stars such as Merle Haggard, Willie Nelson, Roy Orbison, George Jones, John Fogerty, George Strait, and Tim McGraw.
In addition to his incredible vocal talents, Lefty was widely recognized for his songwriting skills. He had four songs in the country top ten at the same time in 1951--a feat that would only be repeated one more time on any chart, when The Beatles had five songs on the pop chart in 1964. Among Lefty's many hits are: "If You've Got the Money, I've Got the Time," "Mom and Dad's Waltz," "The Long Black Veil," and "Saginaw, Michigan."
Willie Nelson's 1977 album, To Lefty From Willie, was a tribute to Frizzell and consisted entirely of cover versions of Frizzell songs. Fellow Texan Roy Orbison was also a devout fan of Frizzell's sound. In 1988, as a part of the Traveling Wilburys, Orbison chose the name "Lefty Wilbury" in honor of his musical hero.
Lefty was inducted into the Songwriters Hall of Fame in 1972 and the Country Music Hall of Fame in 1982. He has a star on the Hollywood Walk of Fame and is a member of the Rockabilly Hall of Fame. "I Love You a Thousand Ways" is a long overdue, beautiful tribute to one of the most underrated musicians of all time, a man whose music continues to influence new generations of musicians and music fans.
Santa Monica Press, 9781595800589, 327pp.
Publication Date: June 1, 2011
About the Author
David Frizzell began his career in music as a teenager, accompanying and performing alongside his older brother, music legend William "Lefty" Frizzell. In 1981 he recorded his first number-one country hit, "You're the Reason God Made Oklahoma," a duet with Shelly West. In 1982, David hit number one on the country charts with his solo single, "I'm Gonna Hire a Wino to Decorate Our Home," which was nominated for Song of the Year at the 1982 Grammy Awards. He continues to record and perform at venues around the world to this day. Merle Haggard is one of the most influential singers, guitarists, instrumentalists, and songwriters in the history of country music. A multiple Grammy award winner with 38 number-one hits to his name, Haggard was inducted into the Nashville Songwriters Hall of Fame in 1977 and the Country Music Hall of Fame in 1984.
or
Not Currently Available for Direct Purchase