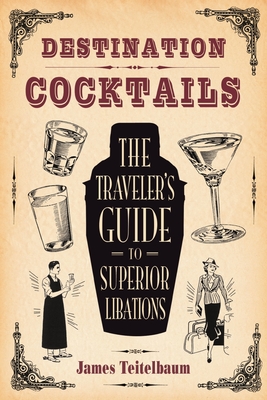 Destination (Paperback)
Cocktails: The Traveler's Guide to Superior Libations
Santa Monica Press, 9781595800725, 414pp.
Publication Date: September 1, 2012
* Individual store prices may vary.
Description
Featuring hundreds of cocktail bars in dozens of cities across the United States and around the world, "Destination: Cocktails" is the traveler's guide to the craft cocktail movement. From New York to Los Angeles and London to Tokyo, this book is the ultimate reference to a network of fantastic bars providing their customers with only the best in gourmet beverages. Destination: Cocktails explores a variety of venues, and features urban lounges, dive bars, and five-star hotels alike. Some locations are brand new, and some have been serving drinks since the 19th century. What do they have in common? They all make quality cocktails, crafted with care, using only the best ingredients. For a bar to be included in this distinguished guide, all that mattered was what was in the glass. With drink reviews, insightful interviews with the proprietors and mixologists, fascinating historical trivia, and a bonus recipe section, "Destination: Cocktails" is an unrivaled reference book for the craft cocktail enthusiast. Your ultimate cocktail crawl begins here and nowdon t forget to send us a postcard
About the Author
James Teitelbaum has been researching cocktail culture since the early 1990s, when he began working on his book Tiki Road Trip (Santa Monica Press). Teitelbaum has traveled the world to fully explore the art of mixing the perfect cocktail. Among the publications he's written for are Playboy, American Heritage, Film Threat, Tiki magazine, AAA World, and Beverage World. Teitelbaum also works in the music industry and teaches college classes in sound engineering. James' interest in cocktail culture began when he was researching Tiki Road Trip--a process that began in the early 1990s--as he began to dread the thought of yet another sugary, headache-inducing mai tai at each destination. Coming to truly appreciate the better examples of this usually-bastardized libation, his horizons soon expanded far beyond the tropical drink genre, towards a respect and enjoyment for all well-crafted beverages. He lives in Chicago.