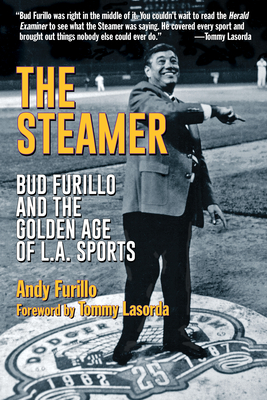 The Steamer (Hardcover)
Bud Furillo and the Golden Age of L.A. Sports
Santa Monica Press, 9781595800886, 480pp.
Publication Date: June 7, 2016
* Individual store prices may vary.
Description
For nearly sixty years, Bud Furillo wrote and talked about sports in Southern California. For fifteen of those years, he authored a popular column for the Los Angeles Herald Examiner called The Steam Room, which gave him the nickname that lasted him for the rest of his life: the Steamer.
As a reporter, columnist, editor, and pioneer of sports talk radio, the Steamer dished out insight and understanding to Southern California sports fans while Los Angeles grew into a sports empire. On his watch, L.A. acquired the Rams from Cleveland, the Dodgers from Brooklyn, and the Lakers from Minneapolis. He covered them all while they won championships for the city.
In The Steamer: Bud Furillo and the Golden Age of L.A. Sports, Furillo's son, Andy, himself a longtime newspaperman, uses his father's lens to give focus to the city's rise as a sports empire. The Steamer is a history of a great sports town at its most dynamic, told from the point of view of a legendary reporter who used his phenomenal access to reveal the inside story of the greatest athletes and teams to ever play in Los Angeles.

About the Author
Andy Furillo has been in the newspaper business since 1972 when he began working as a copy boy at the Los Angeles Herald Examiner. He went on to work as a sportswriter in 1974 for the Downey Southeast News and spent the following six years with the Goleta Valley Today and the Santa Barbara News-Press. In 1980, he shifted to news reporting and for the next thirty-five years focused on criminal justice issues with the Santa Maria Times, the Los Angeles Herald Examiner, the Los Angeles Times, the San Francisco Examiner and, since 1991, the Sacramento Bee. Furillo won the 2002 Broun Award for his reporting on a Sacramento neighborhood's descent into one of the most crime-ridden areas of town. He won other national journalism awards for his coverage of L.A. street gangs, California's prison crisis, and the implementation of the state's "three-strikes" sentencing law. In 2015, the Sacramento Bee made him a sports columnist. He lives in Davis, CA. Tommy Lasorda was the legendary manager for the Los Angeles Dodgers from 1976 to 1996. A two-time World Series champion (1981, 1988) and a two-time NL Manager of the Year (1983, 1988), Lasorda was inducted into the National Baseball Hall of Fame in 1997. He lives in Los Angeles.