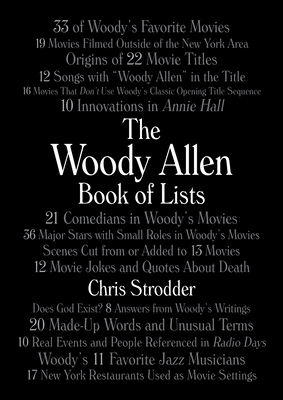 The Woody Allen Book of Lists (Paperback)
Santa Monica Press, 9781595800978, 408pp.
Publication Date: May 19, 2020
* Individual store prices may vary.
Description
Celebrating the prolific career of film and comedy legend Woody Allen, The Woody Allen Book of Lists offers an entirely new way for his passionate fans to explore the filmmaker, writer, actor, comedian, and musician who has been a creative force for more than six decades. Author Chris Strodder delves deep into Woody's work, discovering fascinating facts and trivia about his films, books, plays, stand-up comedy routines, television appearances, and musical performances to create over 200 unique lists, including: -Woody's 10 Steps to Oscar-Winning Success
-Origins of 22 Movie Titles
-Woody's 14 Favorite Artists
-11 Toupees in Woody's Writings
-10 Innovations in Annie Hall
-21 Zelig-Related Products in Zelig
-Who's Not Who: 10 Movies with Errors in the Credits
-Woody Rates His Own Movies
-Poetry in Woody's Movies
-Important Lines Repeated in the Same Movie
-30 Soon-to-Be-Famous Actors and Actresses with Small Roles in Woody's Movies
-Woody's Alternate Lives
-14 Stand-Up Jokes Recycled Into Other Projects
-Does God Exist? 8 Answers from Woody's Writings Illustrated with movie posters, lobby cards, LPs, and photos from Woody's films, The Woody Allen Book of Lists is a fun and fascinating compendium of the comedy, quirks, neuroses, career, and life of the great Woody Allen.
About the Author
Chris Strodder is a lifelong student of Woody Allen's movies, writings, and music, and has seen Allen perform live several times. Strodder is also the author of The Disneyland Encyclopedia, The Disneyland Book of Lists, the children's book A Sky for Henry, an adventure story for young adults named Lockerboy, the comic novel The Wish Book, the Stories Light and Dark collection of short fiction, a pop culture compendium entitled The Encyclopedia of Sixties Cool, and Swingin' Chicks of the '60s, a popular nonfiction volume of profiles that garnered international attention, coverage in dozens of magazines ranging from the National Enquirer to Playboy, and exposure on national TV and radio shows. Strodder's writing has also appeared in Los Angeles magazine, The Hollywood Reporter, The Huffington Post, USA Today, California magazine, Movieline magazine, and others. Strodder lives by the beautiful Pacific Ocean in Pismo Beach, California.
or
Not Currently Available for Direct Purchase