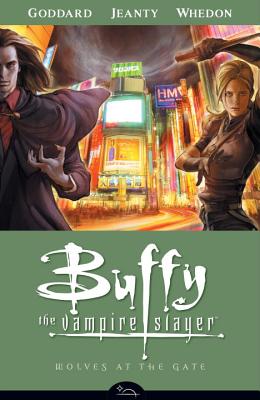 Buffy the Vampire Slayer Season 8 Volume 3 (Paperback)
Wolves at the Gate
Dark Horse Books, 9781595821652, 320pp.
Publication Date: November 18, 2008
* Individual store prices may vary.
Description
Vampires that, at will, can transform into wolves, panthers, insects, or fog invade the Slayer base of operations in northern Scotland, and not only walk away unscathed, but in possession of Buffy's scythe, the symbol of Slayer power worldwide. Buffy and the Slayer legion travel to Tokyo in order to learn more about their dangerous new foes, as Xander journeys to Transylvania to solicit the only person they've ever known to possess such power: Dracula.

* The celebrated Buffy Season Eight continues with Drew Goddard (Cloverfield, Lost) writing Wolves at the Gate, with Joss Whedon continuing his role as executive producer, and Georges Jeanty as series artist.

* Includes the stand-alone issue written by Buffy creator Joss Whedon, "A Beautiful Sunset."

* "The dialogue is Whedonesque and I can hear how the actors would read there lines. It's fun and witty and we're treated to more fantastical stories than the WB/UPN could ever pony up the money to do." -Comic Book Resources

* A New York Times bestseller!
About the Author
Joss Whedon was born in New York City in 1964. He started out as a staff writer for the 1990s sitcom Roseanne and worked on films, including Toy Story. In 1992 he penned the script for a film, Buffy the Vampire Slayer, and when the TV version starring Sarah Michelle Gellar took off in 1997, Whedon had his big break—with its female action heroine, Buffy, became a huge hit. Whedon wrote hundreds of episodes for Buffy and its spin-off Angel, and was nominated for Emmy and Hugo awards for his work. Whedon has come to enjoy a cult following. The author lives in Santa Monica, California.

Georges Jeanty is a comic book illustrator and penciller. Born in Brooklyn, Jeanty graduated from Dade University. He is known for his work the Buffy the Vampire Slayer and Serenity comic books. Jeanty has been nominated for an Eisner Award.

Michelle Madsen is a colorist and letterer for Dark Horse Comics. Madsen has worked on Lady Killer, Baltimore, Buffy the Vampire Slayer, Angel, and many more.
or
Not Currently Available for Direct Purchase