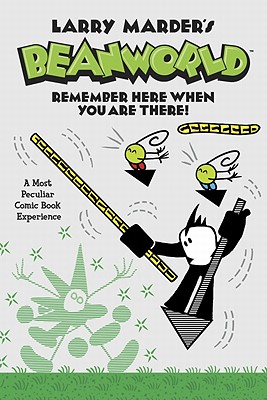 Remember Here When You Are There! (Hardcover)
Dark Horse Comics, 9781595823557, 223pp.
Publication Date: December 1, 2009
* Individual store prices may vary.
Description
Fifteen years in the making, Remember Here When You Are There completes the "Springtime" cycle of Beanworld stories, chronicling the season in which the perfect harmony of the Beanworld is interrupted for the first time in memory. Larry Marder's Beanworld is a most peculiar comic book experience. Inspired by equal parts Jack Kirby, Native American Mythology, Marcel Duchamp, and Robert Crumb, Beanworld has delighted readers from grade school to grad school for more than a generation. Now, Marder returns to his sui generis creation with the first in a series of original Beanworld graphic novels Chock full of characters new and old, this volume sees the Pod'l'pool Cuties learn to fly; Dreamishness ask Beanish to write a love song; trouble with the Hoi-Polloi; the long-anticipated return of Heyoka and the Big Fish to the Beanworld; and all manner of other developments and surprises.