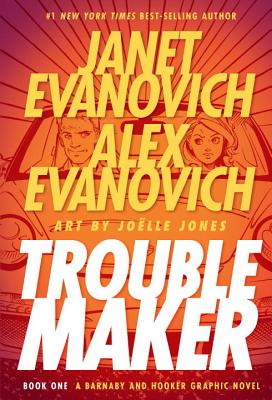 Troublemaker, Book 1 (Hardcover)
A Barnaby and Hooker Graphic Novel
Dark Horse Comics, 9781595824882, 105pp.
Publication Date: July 20, 2010
Description
Janet Evanovich, the New York Times #1 best-selling author of Finger Lickin' Fifteen, brings Alexandra Barnaby and Sam Hooker, from the hit Barnaby novels Metro Girl and Motor Mouth, to Dark Horse Comics with her debut graphic novel -- Troublemaker Alex Barnaby and Sam Hooker are back together and fighting crime the only way they know how -- by leaving a trail of chaos, panic, and disorder. Alex, an auto mechanic and spotter for racecar driver Sam Hooker, is drawn to trouble like a giant palmetto bug to a day-old taco. Unfortunately, she's also drawn to Hooker in the same fashion. There's no steering clear of trouble or Hooker when friends Rosa and Felicia call for help. A man has gone missing, and in order to find him Barnaby and Hooker will have to go deep into the underbelly of Miami and south Florida, surviving Petro Voodoo, explosions, gift- wrapped body parts, a deadly swamp chase, and Hooker's mom.
About the Author
Janet Evanovich is a bestselling writer known for the Stephanie Plum series, the Wicked series, and the Fox and O'Hare series. Her novels have debuted at #1 throughout her entire career. Evanovich was educated at Rutgers University, where she majored in art. She has more than fifty novels to her name. Evanovich's Alex Barnaby series was adapted by Dark Horse comics and was met with rave reviews. Joelle Jones has collaborated with Jamie S. Rich on the acclaimed comic book 12 Reasons Why I Love Her, and they have since shown up as a team in the pages of Popgun, Portland Noir, and Madman Atomic Comics. Joelle also did the cover and interior illustrations for Jamie's novel, Have You Seen the Horizon Lately?, and their most recent full-length effort was the acclaimed crime graphic novel You Have Killed Me. She has also worked on a long-form comic for Vertigo called The Starving Artist, as well as Troublemaker, a collaboration with bestselling author Janet Evanovich. The author lives in Portland, Oregpn. Dan Jackson is a penciller, inker, colorist, and letterer. He has worked on The Strain, Buffy, Aliens, and Call of Duty.
Advertisement