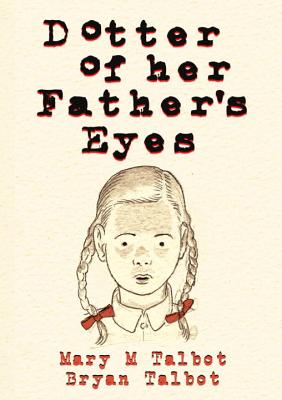 Dotter of Her Father's Eyes (Hardcover)
Dark Horse Comics, 9781595828507, 89pp.
Publication Date: February 21, 2012
Description
Part personal history, part biography, Dotter of Her Father's Eyes contrasts two comingofage narratives: that of Lucia, the daughter of James Joyce, and that of author Mary Talbot, daughter of the eminent Joycean scholar James S. Atherton. Social expectations and gender politics, thwarted ambitions and personal tragedy are played out against two contrasting historical backgrounds, poignantly evoked by the atmospheric visual storytelling of awardwinning graphicnovel pioneer Bryan Talbot. Produced through an intense collaboration seldom seen between writers and artists, Dotter of Her Father's Eyes is smart, funny, and sadan essential addition to the evolving genre of graphic memoir.
* Bryan Talbot is recognized worldwide as one of the true original voices in graphic fiction.
* Bryan Talbot's Grandville Mon Amour was nominated for a 2011 Hugo Award.
Advertisement