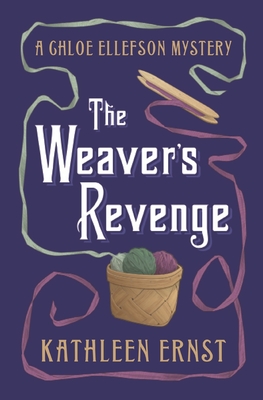 The Weaver's Revenge
Paperback

* Individual store prices may vary.
Description
A Killer Weaves a Deadly Blend of Betrayal and Revenge that threatens Chloe's Work … and Her Life

When offered a rare opportunity to help develop a fledgling historic site dedicated to Finnish American history and heritage, curator Chloe Ellefson journeys to the remote Northwoods of Michigan's Upper Peninsula. In addition to the consultant job, she's on a personal quest to learn about the enduring tradition of rag rug weaving. Encountering a dead body upon arrival, however, immediately puts that goal in jeopardy. Although suspicion soon falls on her new colleagues, Chloe is determined to persevere … even if it means ignoring the advice of her new husband, police officer Roelke McKenna. Can she identify the killer and complete her mission, or will all her dreams unravel?
Three Towers Press, 9781595988102, 398pp.
Publication Date: May 15, 2021
About the Author
Kathleen Ernst is an award-winning and bestselling author, educator, and social historian. She has published over thirty novels and two nonfiction books. Her books for young readers include the Caroline Abbott series for American Girl. Honors for her children's mysteries include Edgar and Agatha Award nominations. Kathleen worked as an Interpreter and Curator of Interpretation and Collections at Old World Wisconsin, and her time at the historic site served as inspiration for the Chloe Ellefson mysteries. The Heirloom Murders won the Anne Powers Fiction Book Award from the Council for Wisconsin Writers, and The Light Keeper's Legacy won the Lovey Award for Best Traditional Mystery from Love Is Murder. Ernst served as project director/scriptwriter for several instructional television series, one of which earned her an Emmy Award. For more information, visit her online at KathleenErnst.com.