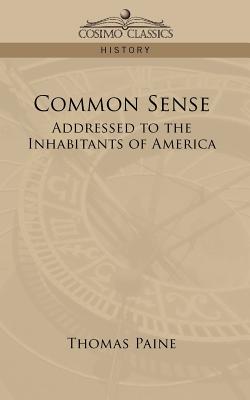 Common Sense (Paperback)
Addressed to the Inhabitants of America
Cosimo Classics, 9781596051430, 80pp.
Publication Date: June 1, 2006
Other Editions of This Title:
Paperback (12/16/2014)
Paperback (1/22/2015)
Paperback (10/4/2018)
Paperback (6/22/2016)
Paperback (5/28/2013)
Paperback (7/12/2019)
Paperback (9/11/2014)
Paperback (8/6/2010)
Paperback (9/6/2018)
Paperback (9/1/2014)
Paperback (7/3/2015)
Paperback (4/19/2014)
Paperback (2/21/2009)
Paperback (10/16/2013)
Paperback (6/13/2010)
Paperback (5/29/2010)
Paperback (10/9/2007)
Paperback (10/20/2010)
* Individual store prices may vary.
Description
Society in every state is a blessing, but government even, in its best state, is but a necessary evil; in its worst state an intolerable one; for when we suffer, or are exposed to the same miseries by a government, which we might expect in a country without government, our calamity is heightened by reflecting that we furnish the means by which we suffer. Government, like dress, is the badge of lost innocence; the palaces of kings are built on the ruins of the bowers of paradise. -from Common Sense It is impossible to overstate influence of Thomas Paine-idealist, radical, and master rhetorician-in the creation of America. With this incendiary pamphlet, published anonymously in early 1776, he gave voice to the discontent that gripped the British colonists in the New World with his cries for small government and personal liberty, and his calls to shrug off the tyranny of Crown led directly to the Declaration of Independence only months later. He was the premiere political "blogger" of his day, a man Thomas Edison called "one of the greatest of all Americans," and one today's liberals and progressives still claim as their intellectual forefather. Everyone who values freedom-of speech, of thought, of governance-and the ongoing fight required to maintain it must read and appreciate this, one of the foundational documents of the United States of America. Also available from Cosimo Classics: Paine's The Age of Reason OF INTEREST TO: students of liberal philosophy, reader of American history AUTHOR BIO: Anglo-American political theorist and writer THOMAS PAINE (1737-1809) was born in England and emigrated to America in 1774, bearing letters of introduction from Benjamin Franklin. He also wrote Rights of Man (1791).