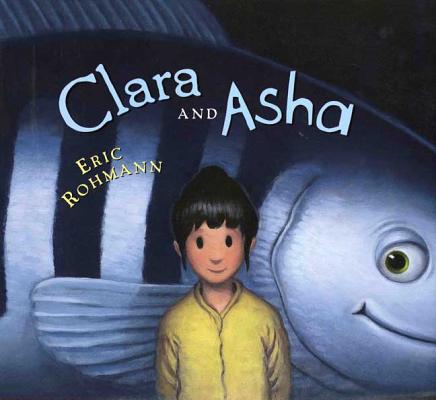 Clara and ASHA (Hardcover)
Roaring Brook Press, 9781596430310, 40pp.
Publication Date: August 1, 2005
* Individual store prices may vary.
or
Not Currently Available for Direct Purchase
Description
In "Clara and Asha" -- as in Eric Rohmann's Caldecott Medal-winning "My Friend Rabbit"--a simple storyline becomes the basis for fun and sophistication. Clara's friend Asha is an enormous fish, which means that hide-and-seek, Halloween, snow days, and afternoons in the park offer surprising opportunities for adventure. With oil paintings that playfully suggest stories within stories and convey great emotional range, this is a captivating book about the special world of a child's imagination--where a giant fish might come to visit, and the things you do and the things you fell with an imaginary friend are intensely real.
About the Author
Eric Rohmann won the Caldecott Medal for My Friend Rabbit, and a Caldecott Honor for Time Flies. He is also the author and illustrator of A Kitten Tale and The Cinder-Eyed Cats, among other books for children. He has illustrated many other books, including Last Song, based on a poem by James Guthrie, and has created book jackets for a number of novels, including His Dark Materials, by Philip Pullman. Rohmann was born in Riverside, Illinois in 1957. He grew up in Downers Grove, a suburb of Chicago. As a boy, he played Little League baseball, read comic books, and collected rocks and minerals, insects, leaves, and animal skulls. Rohmann has his BS in Art and an MS in Studio Art from Illinois State University, and an MFA in Printmaking/Fine Bookmaking from Arizona State University. He also studied Anthropology and Biology. He taught printmaking, painting, and fine bookmaking at Belvoir Terrace in Massachusettes and introductory drawing, fine bookmaking, and printmaking at St. Olaf College in Minnesota. He lives in a suburb of Chicago.
Praise For Clara and ASHA…
"Rohmann has perfected the art of letting the pictures tell the story.... Rohmann offers youngsters a taste of power, liberation and joy—and a good joke on the final page."
--Publishers Weekly "Rohmann's fine, friendly oil paintings range from frolicsome daytime scenes to lush, hypnotic dreamscapes in deep, shadowy blues."
--Kirkus Reviews "The oil paintings portray a natural world in all its glorious seasons, brimming with mystery and delight, where time spent with a friend is one of life's greatest joys. Children will revel in the opportunity to see their dreams and longings realized so enchantingly."
--School Library Journal "The artwork ... is magnificent."
--Booklist "Expressive oil paintings underscore the magic of a young girl's friendship with Asha, a giant imaginary fish.... Will delight little ones."
--Child magazine's Best Children's Book Awards 2005
Advertisement