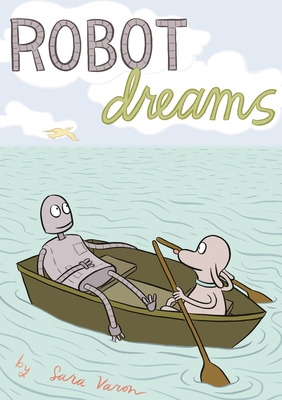 Robot Dreams (Paperback)
First Second, 9781596431089, 205pp.
Publication Date: August 7, 2007
Description
This moving, charming graphic novel about a dog and a robot shows us in poignant detail how powerful and fragile relationships are. After a Labor Day jaunt to the beach leaves the robot rusted, immobilized in the sand, the dog must return alone to the life they shared. But the memory of their friendship lingers, and as the seasons pass, the dog tries to fill the emotional void left by the loss of his closest friend, making and losing a series of friends, from a melting snowman to epicurean anteaters. But for the robot, lying rusting on the beach, the only relief from loneliness is in dreams.
About the Author
Sara Varon is one of the rising stars in the indy comics scene: her simple, moving and instantly endearing artwork touches people's hearts. Her previous projects include the graphic novel Sweaterweather and the picture book Chicken and Cat (a 2006 Parent's Choice silver honor award winner). Originally from outside Chicago, Sara now resides in Brooklyn, where she likes to ride her bike, see movies, and hang out with dogs.
Praise For Robot Dreams…
Starred Review in August 2007 Booklist
In this nearly wordless graphic novel, Dog's desire for a companion is satisfied the day Robot arrives by mail. Dog assembles Robot, and their adventures begin. After visiting the library, watching movies, and eating popcorn, the companions end up at the dog beach. Robot is hesitant to frolic in the waves with Dog at first, but after a short pause, he dives right in. The result is unfortunate — a rusty, immobile Robot. Unsure of what to do next, remorseful Dog abandons Robot on the sand to dream of what might have been (depicted first in brown tonal artwork as opposed to the color used to designate actions in real time) had things turned out differently. While Robot is used and abused, and eventually disposed of in a scrap yard, Dog agonizes over his companion, then begins searching for a new one with mixed, sometimes comic results. Varon's drawing style is uncomplicated, and her colors are clean and refreshing. And although her story line seems equally simple, it is invested with true emotion. Varon's masterful depiction of Dog's struggles with guilt and Robot's dreams of freedom effectively pulls readers into this journey of friendship, loss, self-discovery, and moving forward. Use this as Exhibit A to prove that graphic novels can pack an emotional punch equal to some of the best youth fiction.
Featured in May 2007 issue of Kirkus
Dogs like company. Mostly they hang around with other dogs, but sometimes with robots. Or so Sara Varon would have us believe, and this wordless graphic novel has us very much believing. Robot Dreams is sophisticatedly understated, with subtle gestural cues and colors in a minor key, yet the blossoming friendship between the dog and the robot is unmistakably joyful. It is also a friendship born under a dark star. "The book is about everyone who ever lost or grew out of a friendship," says Varon, whose own star is fast rising on the graphic novel/indy comic stage. "Sometimes in our own lives, things go surprisingly wrong or work out differently than we would want or expect. I hope readers will find it interesting to see how my two characters make the best of their bad deal." The dog seeks new friends, and the robot dreams of better circumstances, since they can't get much worse: abandoned at the beach, covered by a blanket of snow for much of the time, only to wind up in a scrap yard. Still, Fate has more in wait for the robot, including a family of robins nesting in his armpit and a new life in music. "The book sounds kind of gloomy," says Varon, "and strange. But the characters still have fun at this odd moment in their lives, even in the midst of unhappiness, just like we all do."
Review in 1st July 2007 issue of Kirkus
A wordless graphic novel provides a plangent meditation on the nature of friendship. When a dog buys a mail-order robot kit and puts it together, the two become fast friends. On an ill-fated trip to the beach salt water works its corrosive way on the robot, and the dog is forced to leave his immobilized friend lying on its towel on the sand. Their separate stories unfold over the next 11 months, as the dog makes an effort to repair his friend, only to discover the beach has closed, then turns to other friendships, while the robot lies suffering the ravages of weather and neglect and dreaming of friendships past and possible. Varon's muted blues, grays and browns set the emotional tone for this tale, angularly regular hand-framed panels that only rarely vary with frameless images serving to emphasize the emotional confinement of her protagonists. The resolution is psychologically ambiguous, denying readers the satisfaction of a happy reunion but offering them the harder-edged truth that friendships change and die — but others can rise in their place. Witty and plaintive by turns, this is thoughtful, provocative pleasure. (Graphic novel. 8-14)
Review in July 2007 issue of Library Journal
The wordless graphic novel for children. Adults, quite frankly, haven't a clue how to deal with them. But for those kids intimidated by words, new to the English language, or just fond of visual storytelling, these new forms of literature are nothing less than a godsend. From the picture book-sized, "The Boy, the Bear, the Baron, the Bard," to Andy Runton's remarkably popular, "Owly" series, wordless has never been hotter amongst the young 'uns. More to the point, graphic novel imprint First Second has never been intimidated by new formats. Its mighty peculiar "A.L.I.E.E.E.N.", for example, was essentially wordless (not to say wuh-eird weird weird). Though First Second may tend to look to other nations for their stories, they're certainly not afraid of a little homegrown talent on the side. Enter Sara Varon. Best known at the moment for the wordless picture book "Cat and Chicken", this Brooklyn resident has produced a full-blown novel of remarkable sweetness. Linear and lovely, broken up with daydreams and fantasies, Robot Dreams is a small "simple" story of friendship and letting go. Relationships have never pared down so perfectly.
A dog purchases a robot kit so that he might have a friend to hang out with. The robot, a mellow type, enjoys hanging out with the dog, eating popcorn, watching movies, and going to the library. A trip to the beach, however, turns out to be a less than stellar idea when the robot goes swimming only to rust up and find that it can no longer move. The dog goes home for the night, intending to take the robot along later. Unfortunately, the beach is closed the next day and the poor robot is stuck on the sand, dreaming of things both good and bad. As the months go by, both robot and dog have their own small adventures, real and unreal. By the end, however, they each find new and separate companions. The last image in the book is of the robot seeing the dog with another robot, and understanding that this is a case when you've just got to let the person you love go.
You get certain ideas about a book when you look at it. Reading about the concept and glancing at the cover, I had the vague idea that the title would be a series of small adventures shared by the dog and the robot. So when the robot seized up 18 pages into the narrative and was abandoned by his companion (with more than 150 pages to go) I admit that I was a little shocked. Out the window go all my assumptions about the story. Though it's difficult to call it "writing" without having any words to direct you to, Varon's grasp of what makes a good narrative serves her very well here. It doesn't hurt matters any that I also love Varon's style. She's one of those deceptively simple artists. You feel a real and solid attachment to the creatures she's created, no matter how odd they may seem. There's also a real emotional arc to the tale. For example the robot at one point dreams of the betrayal it would feel if the dog found a new robot to hang out with (as it does later in the story). The dog, for its part, finds a variety of different friends during its travels. Birds. Anteaters. A snowman that comes to such a subtle end that it makes Raymond Briggs look like a murderer in comparison.
Varon spots her book with little shout-outs to her various interests and inspirations. Canny readers will notice that near the end the robot and its raccoon friend are reading books like "The Rabbi's Cat", by Joann Sfar. I was intrigued by this mention of a fellow graphic novelist. Yet as my husband was quick to point out, Varon is rather similar to Sfar in that her stories are about extraordinary creatures doing relatively mundane things. Of course, my husband also says that this book is akin to "The Giving Tree", had the tree found someone new to love it instead of that nasty boy. I couldn't disagree more, but I thought I'd mention it here, just in case you want to see for yourself whether or not it's true.
By and large, Robot Dreams is that rare combination of the sweet and the emotionally resonant. To me, this is basically a story about friendship, love, and how to move on when your heart's been broken. It just happens to also be wrapped up in a very innocent tale of a dog and his robot. Undoubtedly this will fly right under the radar of a lot of people who will miss the serious thread lurking beneath the pretty packaging. It's no easy task to produce a narrative sequence without a single spoken word. Harder still to drill home a heart's journey. Varon, then, is one to watch out for. A weirdly magnificent tale.
Starred review in 6/12/06 Publisher's Weekly
Robots, ducks, melting snowmen, and other mute creatures, all rendered in sweet and simple drawings, go through some very big, very human ordeals in Varon's (Chicken and Cat) elegiac and lovely graphic novel about friendship. Dog buys a build-your-own-robot kit and assembles a new best friend for himself. But a day at the beach leaves Robot's joints rusted and immobile, and Dog is obliged to abandon him there. While Dog spends the next year trying to fill the hole in his life left by Robot — and assuage his guilt — Robot lies inert on the beach, dreaming of rescue and escape. Dog's episodic stories are particularly poignant in the way they mirror the human tendency to "try things out" in the hopes of meeting some emotional need; Robot is an avatar for all children who wonder why they aren't receiving the love they think they deserve. In a conclusion both powerful and original, Robot ends up reworked into a radio by a raccoon grateful for the music, and forgives Dog, even if Dog doesn't realize it; for once characters don't have to wind up back together to find happiness. Tender, funny, and wise.
Starred Review in September First 2007 issue of School Library Journal
Gr 3 Up— Dog wants a friend. Dog builds a robot. The two go to the library to get movies, and they make popcorn. They go to the beach, and the dog encourages the robot to play with him in the water. Robot is unable to move afterward because he has rusted stiff, and the dog finally leaves him there on his blanket on the sand. Seasons pass, and both Robot and Dog reflect on what happened, and both are changed because of this experience. The canine goes through a series of friendships that are unfulfilling in different ways: a duck goes south for the winter, a snowman melts, and the anteaters expect him to share their lunches. Meanwhile, the robot is lying on the beach, immobile but awake. He dreams of being rescued, of making new friends, of reuniting with Dog, of never having entered the water in the first place. While he dreams, his body is covered by sand and snow, is used for parts by scavengers, and even serves as a nesting place for a bird. This almost wordless (and dialogue-free) graphic novel is by turns funny and poignant. The cartoon artwork is clear and easy to understand. Varon uses a muted palette of earth tones with great skill. This book is like those board games that can be appreciated by anyone from 8 to 80. It is a quick read, but it will stay with readers long after they put it down. —Andrea Lipinski, New York Public Library
Recommended Book in the November 2007 issue of The Bulletin of the Center for Children's Books
Dog constructs Robot from a mail-order kit, and he turns out to be about as perfect a friend as one could want, sharing the same taste in movies, enjoying a leisurely day at the beach. Metal men and water aren't compatible, though, and when Robot rusts on his beach blanket, Dog leaves him behind to dream wistful dreams that his creator will come and reclaim him. Dog gets on with his life, revelling in several intense but all to brief friendships with characters who are only true for a season — ducks that migrate, a snowman that melts — and while Dog is suffering his own disappointments, Robot is literally torn apart by scavengers that find his hulk on the beach. But better days lie ahead for both: Robot is refashioned into a snappy dancing radio by a tinkerer raccoon who truly appreciates him, and Dog builds himself a new robot best buddy that he tends with more care. Stylized critters in soft, sandy pastels occupy chunky frames against generous white space; wavy frame borders signal segues from the real worlds of beach, home, and town, and the dream world of the patient, ever-hopeful Robot. This is one of those rare pieces that truly qualifies as an all-ages graphic novel, with a wordless story (save for the occasional bits of signage, printed ephemera, and free-floating sound effects and exclamations) packed with enough droll events to engage primary-schoolers, and bittersweet observations on the mutable nature of friendships best understood by those who've been around long enough to win some and lose some. This should be a priority purchase for children's graphic novel collections, and it could be an especially welcome offering for English-language learners.
NCTE Notable Book in the Language Arts Review
A lonely dog builds a robot, and the friends begin a journey of adventure, mistakes, irony, relationships, joy, sadness, dreams, and forgiveness.  Emotional experiences are shared without a word in this graphic novel that elicits laughter, tears, and a realization of the complexity of friendships.  This story begins at the library where the dog and robot find travel information.  At the beach, they play in the water – a poor decision on the part of the metallic robot who is left lying on the beach, unable to move.  Dog returns to repair his friend only to find the beach closed for the season.  In following months, the robot's dreams of being rescued and returning to his friend are shown in wavy lines with neutral hues, while the activities of each are in color.  Their paths cross again as robot, redesigned as a radio, sees dog with a new robot friend and plays sweet music for them. 
Advertisement