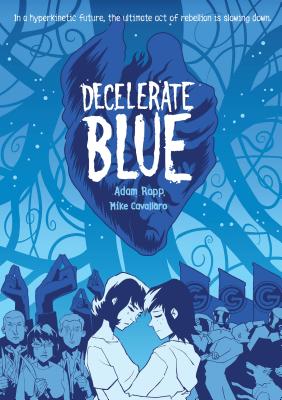 Decelerate Blue
Paperback

* Individual store prices may vary.
Description
The future waits for no one.

In this new world, speed and efficiency are everything, and the populace zooms along in a perpetually stimulated haze. Angela thinks she's the only person in her family—maybe the only person on the planet—who sees anything wrong with this picture. But the truth is she's not alone.

Angela finds herself recruited into a resistance movement where the key to rebellion is taking things slow. In their secret underground hideout, they create a life unplugged from the rapid-fire culture outside. Can they free the rest of the world before the powers that be shut down their utopian experiment?

From revolutionary and award-winning playwright Adam Rapp and veteran cartoonist and animator Mike Cavallaro comes Decelerate Blue, a dark, breath-taking new vision of an all-too-plausible future for America.
Praise For Decelerate Blue…
"Predominantly black-and-white artwork complement this gripping, thought-provoking narrative...and the spare use of full color heightens the emotion of the piece." —School Library Journal, starred review

"It's a rare graphic novel that dives into romance and dystopia, so this will garner a wide readership." —Bulletin of the Center for Children's Books

"Slim-lined cartooning imbues a helping of personality, and...inventive page compositions keep visual interest high." —Booklist

"This is a strikingly illustrated book set in a potentially massive world, and readers will hope this isn't the only story to come from it." —Kirkus



First Second, 9781596431096, 208pp.
Publication Date: February 14, 2017
About the Author
Adam Rapp is an OBIE Award-winning playwright and director, as well as a novelist, filmmaker, actor, and musician. His play The Purple Lights of Joppa Illinois had its world première last month at South Coast Repertory. His other plays include Red Light Winter (Citation from the American Theatre Critics Association, a Lucille Lortel Nomination for Best New Play, two OBIE Awards, and was named a finalist for the 2006 Pulitzer Prize), Blackbird, The Metal Children, Finer Noble Gases, Through The Yellow Hour, The Hallway Trilogy, Nocturne, Ghosts in the Cottonwoods, Animals and Plants, Stone Cold Dead Serious, Faster, Gompers, Essential Self-Defense, American Slingo, and Kindness. For film, he wrote the screenplay for Winter Passing; and recently directed Loitering with Intent. Rapp has been the recipient of the 1999 Princess Grace Award for Playwriting, a 2000 Roger L. Stevens Award from the Kennedy Center Fund for New American Plays, the 2001 Helen Merrill Award for Emerging Playwrights, and Boston's Elliot Norton Award; and was short-listed for the 2003 William Saroyan International Prize for Writing, received the 2006 Princess Grace Statue, a 2007 Lucille Lortel Playwriting Fellowship, and the Benjamin H. Danks Award from the American Academy of Arts and Letters.

Mike Cavallaro is from New Jersey and has worked in comics and animation since the early 1990s. His comics include Eisner Award–nominated Parade (with fireworks), The Life and Times of Savior 28 (written by J.M. DeMatteis), Foiled and Curses! Foiled Again (written by Jane Yolen), Decelerate Blue (written by Adam Rapp), and the Nico Bravo series.
or
Not Currently Available for Direct Purchase