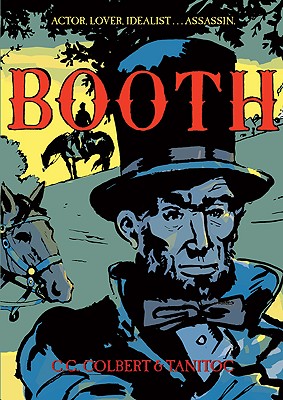 Booth
Paperback

* Individual store prices may vary.
Description
In a time when brother was pitted against brother, no family was more divided than the Booths.
The United States has become violently polarized. Political fanaticism divides an embittered populace. A recently elected President—an energizing symbol of change for some, and a harbinger of the downfall of America for others—stands at the center of the turmoil. It is 1865, and John Wilkes Booth is about to assassinate the President of the United States.
From the pen of American historian C.C. Colbert and the brush of French comics master Tanitoc comes a thought-provoking perspective on one of the greatest villains of U.S. History: a killer who was also an actor, a lover, a doubter, and, in his own mind, a patriot.
Praise For Booth…
Review in 2/15 Booklist
President Lincoln's assassin had a complicated psychology and deep-dyed allegiance to the Confederate cause. Historian Colbert has scripted an engaging and insight-provoking portrait of John Wilkes Booth from youth through his demise, exploring his relationships with women of high and low esteem, competition with his brother both on- and offstage, and the cloak-and-dagger conspiracies that were part of nineteenth-century spy circles. Graphic-novelist and scholar Tanitoc's luminous full-color art shows details of landscape, architecture, dress, and posture; his people's faces are rarely beautiful but show finely tuned individuality. This is an engaging read for literary graphic-novel fans and also for historical-fiction readers just beginning to get acquainted with the graphic-novel format. — Francisca Goldsmith
Review in 3/15 BCCB
Although Colbert is certainly not the first to give the Lincoln assassination a graphic novel treatment, his spin is substantially different than that of Rick Geary's The Murder of Abraham Lincoln.  Whereas Geary's account traces the team of conspirators in detail, rendering their activities in finely penned black and white, Colbert and illustrator Tanitoc offer a full-color presentation that focuses narrowly on John Wilkes Booth, and particularly on two women with whom he was romantically connected at the time of the assassination.  Colbert's tale is essentially fact based, but in a closing note he labels his title a work of historical fiction, citing historical studies he cited but stopping short of crediting specific sources.  This is spicy business indeed, with Booth wooing and seducing Lucy Hale, the daughter of an abolitionist Senator, even as he carried on a relationship with a reputed prostitute who aided him in his efforts to save a dying Rebel cause (the trysts are portrayed with a visual frankness that suggests an audience past middle school).  Deep golds, browns, wine reds, and violets illuminate the thickly lined panels, yet they still suggest an atmosphere of tenebrous meeting places and dangerous cabals.  Fascination with Lincoln's demise shows no sign of abating, and there's always room for another well-crafted reimagining of the event.
Review in 5/1 School Library Journal
Gr 9 Up–The life of notorious John Wilkes Booth receives a striking adaptation. The tagline–"Actor, Lover, Idealist…Assassin"–summarizes the book's approach. The text follows Booth's life, starting with his early years as he strove to make his own way in the world, to his success as an actor, his doomed romances, his increasing role in the anti-abolitionist underground, and finally to the physically broken fugitive he became. The great trick that the book pulls off is managing to create empathy for Booth, despite his flaws and crimes. Along the way, readers receive glimpses of Lincoln-era American life, from the ornate estates of the upper class, to the bawdy taverns of the under classes. The artwork by French artist Tanitoc is looser in style than most North American readers will be used to, but the bold and strategic color palette is compelling. Due to the artistic style and the relatively small size of the overall work, characters' faces are sometimes hard to distinguish, although color is often used to differentiate them.–Douglas P. Davey, Halton Hills Public Library, Ontario, Canada
First Second, 9781596431256, 176pp.
Publication Date: March 30, 2010
About the Author
CATHERINE CLINTON, who writes here under the pseudonym CC Colbert, is a professor of history at Queen's University Belfast specializing in American history with an emphasis on the south. She is also the author of Harriet Tubman: The Road to Freedom and Mrs. Lincoln: A Life. TANITOC is a French bande dessinee artist, writer and lecturer. He is the author of two graphic novels, and a founder-member of the International Bande Dessinee Society. He is known as a scholar on comics criticism and theory. He has run workshops in France, Ireland, Britain and Japan. He lives in the Loire Valley with his family.
or
Not Currently Available for Direct Purchase