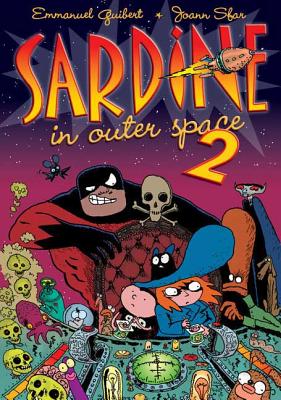 Sardine in Outer Space 2 (Paperback)
First Second, 9781596431270, 128pp.
Publication Date: September 5, 2006
Other Editions of This Title:
Paperback (5/2/2006)
Paperback (6/10/2008)
Paperback (10/2/2007)
Paperback (4/3/2007)
Paperback (10/28/2008)
Prebound (9/1/2006)
Hardcover (10/1/2008)
Prebound (4/1/2007)
Prebound (10/1/2007)
Prebound (5/2/2006)
* Individual store prices may vary.
Description
The red-headed space heroine is back! This time, the evil Supermuscleman has developed a device for controlling children—a brainwashing machine! It's up to Sardine, Little Louie, and Captain Yellow Shoulder to keep him from using it. This installment of twelve more stories is filled with even more strange creatures—including a space Santa Claus, pesky flies that plant annoying music in their victim's ears, intergalactic yogurt thieves, and little monster carpet salesmen who live on a fully-carpeted comet. The outrageous adventures of Sardine continue in these spirited, boisterous, and gently satirical tales.
About the Author
Joann Sfar is a force of nature. Having produced over 100 books since the early 1990s, he continually enchants, disturbs, and delights his readers with his unique rambling brand of storytelling.
He happily blends memoir with fantasy and philosophical musing with outrageous inventiveness. Sfar has evolved a personal mythology and a wondrous gallery of characters, many of whom have no qualms about guest starring in his other works. The result is a personal universe that readers around the world visit and revisit in growing numbers.
His works include Vampire Loves, Klezmer, The Professor's Daughter (in collaboration with Emmanuel Guibert), the Sardine in Outer Space and Little Vampire series, and the Eisner Award-winning The Rabbi's Cat. He lives in Paris with his wife, his two children, and a cat.
Emmanuel Guibert has written a great many graphic novels for readers young and old, among them the Sardine in Outer Space series and The Professor's Daughter with Joann Sfar.
In 1994, a chance encounter with an American World War II veteran named Alan Cope marked the beginning of a deep friendship and the birth of a great biographical epic.
Another of Guibert's recent works is The Photographer. Showered with awards, translated around the world and soon to come from First Second books, it relates a Doctors Without Borders mission in 1980's Afghanistan through the eyes of a great reporter, the late Didier Lefèvre.
Guibert lives in Paris with his wife and daughter.
Praise For Sardine in Outer Space 2…
"Young space pirate Sardine checks in for a dozen more mini-adventures, in most of which she, her sidekick Little Louie and hulking captain Yellow Shoulder get the better of evil Supermuscleman and his rubbery orange minion Doc Krok. Along with occasional side trips to play soccer with a giant Dunderhead's detachable navel or to rescue Yellow Shoulder, the heroic pirates sabotage Supermuscleman's child brainwashing machine, treat him to an explosive set of Christmas presents and engage in a high speed chase along the Milky Way that ends suddenly when the Milk turns. In one episode that edges perilously close to over-the-top, a pair of his stuttering star thieves briefly captures them. All related in cartoon panels, printed on coated paper to brighten the colors and featuring easily legible lettering in big dialogue balloons, these episodes might seem a touch repetitious to adults, especially those familiar with volume one (May 2006), but they will keep the younger audiences to whom they're actually addressed chortling. (Graphic novel. 7-9) " —Kirkus
"Gr. 4-6. The impish graphic novel protagonists Sardine and her uncle Yellow Shoulder return in 12 enjoyable, nutty tales of the fun-loving space pirates versus the slow-witted galactic dictator Supermuscleman. The collection occasionally attains the of gross absurdity (chocolate-defecating flies whose bite induces a sort of disco-coma) and now and then takes satirical shots at targets such as television, salesmen, and George W. Bush. The European sensibility of the French creative team combines with unapologetic lowbrow humor, including barf jokes and shenanigans such as sidekick Little Louie's urinating-on-a-planet trick (shown only in silhouette), which give the book an illicit, forbidden-fruit appeal that some young readers will find irresistible. Sfar, whose recently imported Dungeon series is gaining well-deserved attention, casts the loopiness in sometimes crude, off-kilter visuals that imbue the stories with their crucial weirdness. On proud display here is the idea that that children are our last line of defense against a world that is increasingly bound by stiff guidelines and unnecessary rules." —Booklist