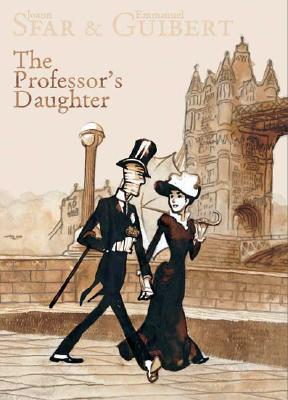 The Professor's Daughter
Paperback

* Individual store prices may vary.
Other Editions of This Title:
Hardcover (4/17/2007)
Description
Imhotep IV is an Egyptian mummy who's just opened his eyes for the first time in 3,000 years. Lillian Bowell is the daughter of a renowned Egyptologist. One day, when the Professor's away, the two go out for an afternoon on the town. The heap of trouble that they land in--brought on by Mozart, afternoon tea, and a passing gentleman's sensitive nature--only deepens when they learn Imhotep IV's father is in town. Can Imhotep IV and Lillian stay together when both their fathers, the London Police, and even the Archeological society are desperate to drag them apart?
Written by the hilarious and insightful Joann Sfar and painted in muted, sepia-toned watercolors by Emmanuel Guibert, this book is something to keep as a display piece, a thing of beauty--if you can put down the engaging story long enough for others to admire it.
Praise For The Professor's Daughter…
Review in January 15th 2007 issue of Kirkus
Mummies and fathers complicate a love story that spans centuries in this gorgeously illustrated fable.
Originally published in French in 1997, this English translation highlights the playful collaboration of two masters of the graphic narrative, with Sfar (The Rabbi's Cat, 2005) providing the story and Guibert (Sardine in Outer Space 1 and 2, both 2006, illustrated by Sfar) the colorful, impressionistic visuals. The elegantly slim volume details the romance of a 19th-century British professor's daughter and the 16th-century mummy of an Egyptian emperor (a witty and erudite fellow), who is one of her father's prized possessions. The daughter is one of her father's prized possessions as well, thus rendering their illicit relationship all the more problematic. The mummy's attempt to live with his lover in her world results in an afternoon of mayhem and perhaps even murder, so they try to return to his world, with equally disastrous results. A trial highlights class inequities in Victorian England, while the Queen herself makes a brief (and soggy) appearance. Ultimately, a climactic encounter between the mummy's estranged father and the professor gives the finale a surprising, satisfying twist.
No glorified comic book, this graphic novel aspires to fine art.
Review in February 5th 2007 issue of Publisher's Weekly
Two of France's best graphic novel talents, the ever-prolific Sfar and the subtle illustrator Guibert, collaborate. The result is a fun—if slight—effort, as much a love letter to Victorian London as a story unto itself. Very simply, a mummy, somehow alive and walking around London, has a charming romance with a professor's daughter. The logistical complications involved are comically dismissed, and the pair have a grand old time together. That is, until the mummy's father appears to complicate matters. Sfar has written an utterly engaging romp comparable to a fine 1930s romantic comedy. His dialogue is snappy, and he moves from thrills to chills to humor without missing a beat. But Guibert's work is the real treat. His deft brushwork and spectacular sense of color bring the places and dramas to life. In his hands, otherwise stock characters gain a real presence and liveliness, and he has a filmic sense of drama, describing the characters with detail and wit. A section of Guibert's sketches at the end of the book is extraneous, but otherwise this is an excellent little volume. (Apr.)
Review in March 15th 2007 issue of Booklist
Lillian is the daughter of an eminent Egyptologist. Seeking relief from the stifling propriety of her daily life, she invites Pharaoh Imhotep IV, a dashing mummy from her father's collection, to escort her on a walk. As they stroll through Victorian London, arm in arm, they find themselves falling in love. Their subsequent attempts to stay together lead to mystery, kidnapping, murder, and the sudden return of Imhotep III. Comical disasters ensue, and the situation becomes increasingly absurd, but the romance at the core of the story remains innocent and charming. The art—with a fluidity that expresses emotion and movement to equal advantage—is stunning, and the soft colors are a good match for the setting and mood of the sweet, inspired romance. This will attract adult as well as teen graphic-novel fans.
Review in April 1st 2007 VOYA
In Victorian London, Lillian is the daughter of a brilliant archaeologist, and she is falling in love with the mummy of Imhotep IV. Their quietly blooming love is awkward: He has no internal organs, and she is the very image of his long-dead wife. As a mysterious gentleman pirate, an unlucky policeman, and the queen herself interfere, the lovers find just what their feelings are made of.
This translation of a widely acclaimed French comic fires on nearly all cylinders. The concept is absurd, but there are moments of touching sweetness, both between Imhotep and Lillian and between Imhotep and the ghosts of his children. The book easily slips between farce (the policeman's accidental murder) and melodrama (the lovers' on-again, off-again courtship) thanks to its muted colors and charming characters. Those characters, with their dainty Victorian manners and surprising moments of subterfuge, follow clear and sympathetic motivations, even when the results are morbid. The story's only difficulty is that many of the translations are too abrupt in the context of the otherwise meditative narrative. For example, in the space of fewer than twelve panels, Lillian's father discovers the dead policeman, Imhotep kidnaps Lillian, the lovers find an escape boat, and the men who work the vessel betray them. But this problem is slight, and teen readers might even find the suddenly hectic passages a nice break from the hesitant romance and dreamy melancholy of the main plot. —Joe Sutliff Sanders
Review in May 2007 issue of Library Journal
Gr 10 Up—This novel follows the tumultuous courtship of a pair of Victorian lovers, one of whom happens to be an ancient Egyptian pharaoh. Lillian, daughter of an eminent Egyptologist, and the mummified Imhotep IV turn more than a few heads when they venture out in public, and their affair is complicated when she accidentally poisons two police officers. After turning herself in, she is thrown in jail and tried for murder. When Imhotep is caught trying to rescue her, he, too, must face a judge and jury. Both Lillian's and Imhotep's fathers attempt to save their children and set things right. Imhotep's father takes an extreme approach, abducting Queen Victoria and tossing her into the Thames. The narrative plunges into action with the story already in progress, leaving readers to piece together a backstory as events quickly continue to unfold. The story tumbles forward in surprising directions, and narrative ambiguities are handled deftly so as to spur curiosity and draw readers in. Lush watercolors lend fullness and detail to the characters, and the colorful palette evokes a sense of drama that is tongue-in-cheek. The translucent texture of Guibert's art lightens the narrative, adding to the undercurrent of whimsy that is apparent throughout this enjoyable melodrama.—Heidi Dolamore, San Mateo County Library, CA.
Review in May 2007 issue of KLIATT
A timeless tale of forbidden love, murder, and meddlesome parents unfurls in this utterly fantastic import. Lillian Bowell, the fair daughter of Professor Bowell, renowned Egyptologist, has fallen for the wrong guy—he's 3,000 years older than she, and her father most certainly will not approve—yet he's just so charming and well-mannered, young Lillian is smitten. The object of her affection, mummy Imhotep IV, shares a fine braid of commonalities with the young noblewoman, from parents who just will not let go to mysterious deeper connections that span eons.
This exceptional offering is sure to stimulate its reader on a number of levels—the story is a wondrous romp of fantastic forbidden love during the Victorian era, and the art, with its lush palette ranging from sepia tones to cool blues to rich greens, commands readers' attention. Color is employed sparsely throughout, making the effect extremely dramatic when used and demanding that the reader savor every panel. Teen readers will instantly gravitate towards this story and fall for its unlikely couple and their struggle just to be together. Be prepared for their pleas for subsequent volumes. This short, well-composed graphic novel is highly recommended for all public libraries, and with no questionable content, it is a must for school libraries also.
Review in
'O'
Magazine
She's a headstrong, naïve young lady. He's a debonair (think Fred Astaire in top hat and tails), sensitive (the strains of Mozart make him teary), 3,000-year-old Egyptian mummy. Together Lillian Bowell and Imhotep IV deft convention and their formidable fathers—a famed archeologist and a long-defunct pharaoh, respectively—in The Professor's Daughter, Emmanuel Guibert and Joann Sfar's stylist graphic novel of love and intrigue in Victorian London. Proof that the perfect man may still be under wraps. . . .
Review in July 2007 issue of Horn Book
Imaginative and highly entertaining, Sfar and Guibert's graphic novel is part farce and part Victorian melodrama, topped off with a generous splash of noir. The story starts with Lillian Bowell, the professor's daughter of the title, on the arm of a mummy she's taken from her father's collection (for what decent young lady can gad about late-1800s London sans escort?). Her mummified beau, dressed in a natty tuxedo, is none other than Pharaoh Imhotep IV. Despite their three-thousand-year age difference, they immediately click, as the witty dialogue reveals: "[My father's] stifling me. I sometimes feel like I'm a possession of his, one of those antiques he goes searching for in the far corners of the world." Imhotep replies, "I know the feeling." The unlikely couple then embarks on some offbeat adventures: Imhotep gets drunk on tea and causes a ruckus, and to prevent his arrest, Lillian drugs—and accidentally kills—two men. They then attempt to flee by boat to Cairo, but are waylaid by the crew of Imhotep's father, who's also, of course, a mummy. More madcap happenings ensue, all brought to life with Guibert's skillful brushwork and shadowy muted palette. Originally published in France, this first Sfar-Guibert collaboration will wow both graphic novel aficionados and newcomers to the genre.
Cover and review in the July 2007 issue of The Bulletin of the Center for Children's Books
A mysterious widower from afar seeks a second chance at love; properly reared Lillian Bowell chafes at the repressive mores of Victorian gentility; two overbearing fathers attempt to thwart the lovers. Pretty trite stuff, were it not for the fact that the widower in this graphic novel is the revived mummy of Prince Imhotep IV, and the aggrieved fathers are an arrogant pharaoh back from the dead and an archaeologist supplying pilfered curiosities to the British Museum. Can true love triumph when the buttoned-up world of nineteenth-century England collides with the bandaged up world of ancient Egypt?
Well, of course it can, even though the path to the sweetheart's inevitable happy ending is strewn with obstacles of the screwball comedy variety. Imhotep IV's first outing with Lillian is marred by inebriation (three millennia without stimulants, and even a cup of tea will get to you). This leads directly to an unfortunate poisoning (how was Lillian to know the harmless sedative she administered to a policeman and a complainant was arsenic?). And this, in turn, sets the lovers on the lam from the law, dockside thugs, Imhotep III (who has some unresolved issues to settle with his son), and even a few palace guards. Several kidnappings, incarcerations, and switches of gentleman's clothing later, Lillian and her suitor have outsmarted, outrun, or simply outlasted all of their nemeses. The closing quintet of panels, set "a few years later," wryly assures us that Imhotep IV is now the perfect English gentleman from his well-shined shoes to his bowler hat, Lillian is a satisfied matron, and their three children, who regard a glass-encased mummy on display at the museum with wide-eyed trepidation shared by many of their twentieth-century counterparts, will never have a clue concerning their forebears if Mama and Daddy have anything to say about it.
Underpinning the chases, lovers' tête-à-têtes, and legal drama is a good-natured satire of stiff-upper-lipism, in which Londoners are incapable of expressing anything but calm regard for the linen-wrapped gentry among them. Queen Victoria comes in for her share of ribbing as well — unflappable when a crazed Imhotep III crashes her palace; intractable at his demands for marriage ("See to it that this boor leaves at once"); a paragon of noblesse oblige in knighting her rescuer as he drags her out of the Thames; and ever solicitous of her royal corgis. The sharpest critique, though, is leveled at the European system of archeological plunder — no need to mention Lords Elgin or Carnarvon by name — by which the noble heritage of one nation is reduced to quaint collectibles by another. Teasing starts out fairly tale when the arrest of Imhotep IV results in the roundup of hundreds of mummies that have obviously been stashed in antique shops and private drawing rooms. It takes a deliciously nasty turn, though, at the visual punchline in the denouement: the Egyptian prince has become the impeccable British gentleman, and his pillaging father-in-law is shrouded, mislabeled, and on permanent display for the edification of museum-going Londoners and his own grandchildren.
Readers familiar with Sardine in Outer Space or Vampire Loves will scarcely recognize the work of Sfar and Guibert as they switch author and illustrator roles for this early collaboration, now seeing new life as a French import. No spiky inking or bold matte colors here, but rather moody, detailed watercolors equally adept at capturing foggy embankments and damp jail cells, prim parlors and imposing courtrooms. The action tidily unfolds in six framed panels per page, a layout that should prove agreeable to even the most constrained Victorian sensibilities. Only twice does Guibert break into full-page art — under the unbearable stress of the professors' discovery of dead bodies disrupting their domestic order, and again in a courtroom scene that honors (or sends up?) the majesty of British law. Scene changes are signaled by shifts from the dominant sepia and gray tones to rich blues for the dream sequences that supply Imhotep IV's backstory, bilious greens of Lillian's (second!) abduction, and brown and crimson for the stately paneling and silken robes of the trial.
Who could resist a masterful storyteller who can pull off lines like, "Is it my fault if she refuses to marry a dead man?" or "I was thinking of our walk in the park that morning when I took you out of your sarcophagus" with a straight face. Even the YAs who wouldn't normally be caught dead with a love story (like, for instance, guys) will be wrapped up in this stylish mayhem. — Elizabeth Bush
Review in January 1st 2008 issue of Library Journal
Maiden and mummy make a match in this goofy Victorian romp. While her anthropologist father is away, the curious Lillian opens Imhotep IV's case. To their mutual surprise, the ancient pharaoh comes to life, and it's love at first sight, even with his mummy wrappings still in place.
Out on the town with Lillian for a lark, her embalmed escort accidentally roughs up a bystander. When the police come to investigate, Lillian poisons them, also accidentally. Then Lillian's father turns up and — surprise — so does Imhotep's mummy-dad; they don't get along. More inadvertent deaths follow, with derring-do, chase scenes, Queen Victoria kidnapped, and an unexpected happy ending for the smitten couple. None of this makes any sense as science fiction, but it doesn't matter a whit. In their first collaboration, French creators Sfar and Guibert (Sardine in Outer Space) have crafted a delightful petit four of a picaresque romance, with lovely, expressive watercolor art.
Recommended for teen and adult collections. — Martha Cornog
Review in 10/1 BookPage
On a much lighter note is The Professor's Daughter (First Second, $16.95, 80 pages, ISBN 91596431300), written and illustrated by Joann Sfar and Emmanuel Guibert.  It's actually the first book the now-renowned team worked on together, and it's unique in that Sfar, who usually illustrates their collaborations, did the writing, while Guibert contributed the illustrations.  In 19th-century London, the daughter of a famed Egyptologist falls for the mummied prince Imhotep, inexplicably awake after 30 centuries.  Their mad courtship gets them into all kinds of trouble, and eventually jail; the queen is unceremoniously tossed into the Thames; murder and mayhem ensue; and everyone, or almost everyone, lives happily ever after.  The retro-style illustrations and lively, absurdist writing makes this book as lovely to look at as it is delightful to read.
First Second, 9781596431300, 80pp.
Publication Date: April 17, 2007
About the Author
Emmanuel Guibert and Joann Sfar are two of the most ridiculously talented comics authors to come from France. Prolific, inventive, and versatile beyond common sense, the two shared a Paris studio from 1995 to 1999, and stories grew there like ragweed.Taking turns writing scripts and drawing pictures, Joann and Emmanuel have collaborated on a number of prize-winning graphic novels, such as SARDINE IN OUTER SPACE, the BLACK OLIVES series, and now THE PROFESSOR'S DAUGHTER.Working solo, Sfar is the author of the popular LITTLE VAMPIRE and VAMPIRE LOVES series, as well as the bestselling THE RABBI'S CAT. As for Guibert, his many works for readers young and old include ALAN'S WAR, an extraordinary biography of his late father Alan Cope, an
or
Not Currently Available for Direct Purchase