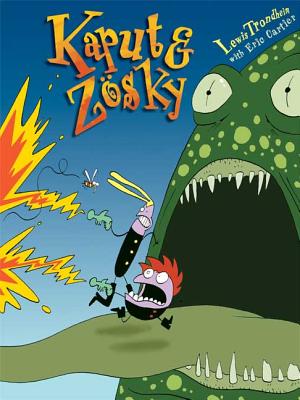 Kaput & Zosky (Paperback)
First Second, 9781596431324, 76pp.
Publication Date: April 1, 2008
* Individual store prices may vary.
or
Not Currently Available for Direct Purchase
Description
Would-be world conquerors Kaput and Zosky are at the pinnacle of their careers. So why does victory always slip from their grasp?
On one planet the natives surrender to Kaput and Zosky without a fight where's the fun in that? On another, Kaput finds that he's won the lottery and the prize is invested by well-meaning people against his will until he learns he now rules their planet. He doesn't even have to shoot anyone first Mayhem and hilarity abounds in these thirteen stories told with bright, cartoony art by Lewis Trondheim.
About the Author
A phenomenally prolific and well-regarded artist and writer, Lewis Trondheim has published more than 35 books in the last ten years, including A.L.I.E.E.E.N. and Tiny Tyrant. He is one of the leading figures in French comics, and is a co-founder of the alternative publishing house L'Association. Hilarious, caustic, and original, his multifarious books have earned him international renown.
Praise For Kaput & Zosky…
Review in March 15th 2008 issue of Booklist
Kaput and Zösky are out to conquer the universe one planet at a time. The problem is that the universe just doesn't recognize their right to rule with an iron fist. They travel from alien landscape to alien landscape—Zösky poised to try every devious strategy to seize power; Kaput ready to go in guns-ablazing. Their lack of planning and agreement accounts for their lack of success, but they still keep on trying. As usual, Trondheim is both hilarious and irreverent; Kaput and Zösky might even be offensive if they weren't so comically bad at being evil. Cartier's art is a lively match for the quirky story. His simply designed characters are expressive and fresh, and he's equally skilled at presenting the bombastic action, which he delivers with humor and wonderful comic timing. Fast-paced, quick-witted, and lots of fun.
Review in VOYA -- 4Q * 4P
Kaput and Zosky are zany partners determined to rule the universe.  The only problem is that something always goes wrong when they land on a planet.  Humor is exhibited in the colorful drawings of the odd-looking characters (Kaput has an enormous overbit, a red Mohawk, and an egg-shaped body) within the small panels.  The situations the team finds itself in and interchanges between the two are equally funny.  When they visit Earth, they vow to "devour all their chocolate desserts," but the size of the earthlings, including their insects and litter, is too intimidating.  The duo simply flees without putting up much of a fight.  On another planet, they are mistaken for Cabbage Patch kits by a lonely couple.  Between each of Kaput and Zosky's adventures, there is an even shorter strip featuring another character, Cosmonaut, a tiny man who also visits planets and often attacks various creatures. 
Colored backgrounds vary, depending on the mood and the tone of the planet the characters encounter, but the insatiable appetite for blood and power never seems to escape them.  The cartoonish illustrations on the front and back covers might dissuade teens from opening the book, but the occasionally thought-provoking stories are far from juvenile.  Translated from the French, adaptations of the Kaput and Zosky series have appeared in televised cartoons in the United States and other countries.  Readers who are looking for an adventure story featuring less-than-perfect heroes will enjoy this book.  – KaaVonia Hinton-Johnson
Review in the Bulletin for the Center of Children's Books
In this French import, the absurd misadventures of the daring Kaput and Zosky, space explorers and would-be conquerors, are presented in brief, full-color installments that, when combined, form a graphic novel detailing several attempts at planet takeovers and a complete glimpse into the humorously bizarre psyches of the two comic protagonists.  While Zosky may on the surface appear to be the logical, restrained counterbalance to Kaput's bloodthirsty mania, they are both quick to shoot first and ask questions later (though few answers may be forthcoming out of the various quivering remains), and they both revel in the idea of finding a planet on which they can settle as overlords.  Unfortunately, the alien beings they encounter all seem to have something wrong; the inhabitants are bloodsuckers, or too good at hopscotch, or a mite too clever.  No matter, the two always have each other, their ridiculously tiny spaceship, and an entire galaxy to explore.  Following each story is a single-page cartoon titled 'The Cosmonaut,' a brief single-gag amusement that acts as a palate cleanser for the next Kaput and Zosky excursion.  The vibrant, sometimes even garish (though appropriately so) illustrations highlight the illogical, gory, and rampantly unsupervised world in which the protagonists dwell (imagine Calvin and Hobbes but with zero societal rules or grownup supervision).  The few pauses built into the stories are conveyed perfectly through wordless panels, as well Kaput, awaiting his next would-be assassin in a gladiator-style contest, stands miniscule in a giant arena, surrounded by splotches that represent his former competitors, momentarily quiet as he relies on the weapon hidden in his mouth.  While the humor sometimes relies on scatology or repeated gags, readers may like it all the better for that, and this hilarious collection is overall fresh, creative, and particularly appealing in the refusal to apply any sort of moral: sometimes space conquerors don't have to learn from their mistakes, and they get to keep assuming that their next attempt will stick. 
Review in School Library Journal
Gr 4-6–The popular French comic lands in the U.S. Kaput and Zösky are power-hungry, bloodthirsty aliens determined to rule as many worlds as they can. Not that the planets have anything to fear. These are the most incompetent would-be dictators in the universe. Zösky is the clear-headed one, managing to come up with some kind of a master plan. Kaput just runs in, guns blazing. Even when they do manage to overthrow a planet, they can't hold onto it very long. On one planet, the little natives simply grant them sovereignty and this ticks Kaput off–where's the fun in that? Since the natives obey every word, the duo soon learns that running a planet of willing subjects isn't that easy, but it is hilarious for readers. The short sequences are broken up by a wordless strip featuring a hapless cosmonaut. Taken in small doses, it's perfect. As a whole book, however, the antics grow tiresome. Kaput and Zösky are sure to liven up children's collections that are big on superheroes but light on humor.–Sadie Mattox, DeKalb County Public Library, Decatur, GA
Advertisement