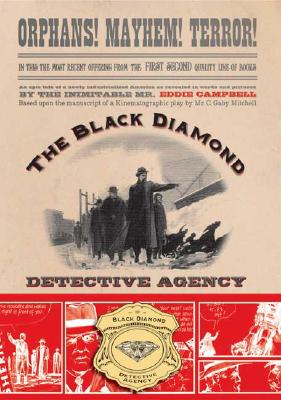 The Black Diamond Detective Agency (Paperback)
First Second, 9781596431423, 144pp.
Publication Date: May 29, 2007
* Individual store prices may vary.
Description
John Hardin is a desperate man. When a train carrying official US currency paper explodes in his town, he's the prodigious Black Diamond Detective Agency's sole suspect. John is innocent, but his wife is missing, his old friends are coming back to haunt him--with guns and explosives--and he's on the run through rural Missouri. THE BLACK DIAMOND DETECTIVE AGENCY is based on the historical journals of Arthur James Quindlen, the agency's founder. Adapted and illustrated with watercolor art by Eddie Campbell, this graphic novel brings a new perspective to that time in America when small farmers were the backbone of the country, graft was rampant, and railroads thundered through western towns.
About the Author
Eddie Campbell is the acclaimed artist behind FROM HELL, for which he won the Ignatz award for Outstanding Graphic Novel and the Eisner award for Best Graphic Album. In 2001, FROM HELL was made into a major motion picture starring Johnny Depp. Campbell is also the creator of the series BACCHUS and ALEC: THE KING CANUTE CROWD. His most recent work is THE FATE OF THE ARTIST, an autobiographical thriller.
Praise For The Black Diamond Detective Agency…
Review in January 15th 2007 issue of Kirkus
A visually stunning graphic narrative with all sorts of complicated plot twists.
The latest from visual artist Campbell (The Fate of The Artist, 2006, etc) represents something of a show-business reversal. Where it has been commonplace for Hollywood to adapt graphic novels and comic book series into movies, this collaboration finds Campbell working from (or "inspired by") a screenplay by C. Gaby Mitchell. The result is a turn-of-the-century (19th to 20th) pulp thriller concerning a railroad attack, domestic desertion, a series of double (or even triple) crosses by gangs and a conspiracy that ultimately reaches so high that the Black Diamond Detective Agency has no idea what it's really investigating. The complications have implications that reverberate a century later, but even those who have trouble following the plot will marvel at Campbell's visual detail, use of color (particularly an explosive red) and extensive stretches of wordless panels.
The veteran artist rises to a new challenge.
Review in May 1st 2007 issue of Booklist
Campbell, who secured his hold on graphic-novel immortality in the Jack the Ripper epic From Hell (2000), created with writer Alan Moore, continues to produce an eclectic and arresting body of work. In this story of detection and revenge, based on a screenplay by C. Gaby Mitchell, he uses a pale palette to create a portrait of a turn-of-the-last-century America that is both thrilled by its technological innovation and terrified by the extreme changes that come with it. The Black Diamond Detective Agency, a fictional stand-in for the Pinkerton Agency, hunts down the culprits behind a lethal train bombing, even as a man in black with a more personal agenda seeks the same men. Cursing, brief nudity, and an implied sexual encounter suggest an older teen audience, who will best appreciate this complex visual experience that weaves in interesting historical supposition, such as the use of forensic sketch artists as nineteenth-century CSI agents, and highlights the staccato bursts of violence (including an exciting, well-choreographed gunfight in a train station) with stinging red accents.
Review in July 2007 issue of KLIATT
On September 4th, 1899, Jackie Harte's life goes straight to Hell. The morning train explodes, taking much of Lebanon, Missouri with it. Jackie sees bandits lugging a safe into a horse-and-buggy while he helps carry survivors to safety. When he goes home, his wife has left him and two private detectives inform him that he's the No. 1 suspect for the bombing. Jackie escapes and goes underground, the Black Diamond Detective Agency and the Secret Service hot on his heels (the latter agency's involvement is a clue). The trail leads him to Chicago, some unsavory ex-associates and a secret cabal working to undermine the US government.
Nobody in The Black Diamond Detective Agency is quite what he appears to be. Jackie Harte is not an innocent man; he is an ex-gangster who ends up working for the agency chasing him. Jackie's wife helps frame him, and although they end up together, I doubt they live happily ever after. Eddie Campbell, the author of Bacchus and illustrator of From Hell, has created a crazy, dangerous world that can be summed up in two words — "nothing works." The dynamic art drips with vivid color (especially the blood), and the action-packed plot is laced with quirky characters. The Black Diamond Detective Agency contains vulgarity (f and s bombs) and violence (several gunfights); highly recommended for high school and adult graphic novel collections.
Review in Eugene Weekly
It's no accident that Eddie Campbell's The Black Diamond Detective Agency (First Second, $16.95) reads like a movie treatment. The graphic novel is adapted from an unfilmed screenplay, and Campbell brings to vivid, snarling life this Victorian tale of gang warfare and 'Old West'-style retribution in the streets of 1899 Chicago. A must-read for history-minded fans of nonfiction author Erik Larson's The Devil in the White City or of cinematic fare such as Scorsese's Gangs of New York. — Eugene Weekly
or
Not Currently Available for Direct Purchase