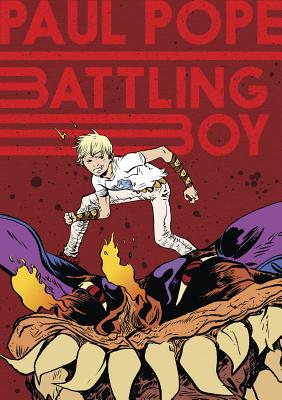 Battling Boy (Paperback)
First Second, 9781596431454, 199pp.
Publication Date: October 8, 2013
* Individual store prices may vary.
Description
A New York Times bestseller
An NPR Best Book of 2013
The adventure begins in the new graphic novel by comics legend Paul Pope.
Monsters roam through Arcopolis, swallowing children into the horrors of their shadowy underworld. Only one man is a match for them - the genius vigilante Haggard West.
Unfortunately, Haggard West is dead.
Arcopolis is desperate, but when its salvation comes in the form of a twelve-year-old demigod, nobody is more surprised than Battling Boy himself.
IT'S TIME TO MEET AN ELECTRIFYING NEW HERO.
About the Author
Paul Pope is the acclaimed author-illustrator of Batman: Year 100, Heavy Liquid, and 100%. Known for his frenetic, high-energy artwork and action-packed, genre-bending storytelling, Pope has won three Eisner Awards. He lives and works in New York City.
Praise For Battling Boy…
"There is no one in comics like Paul Pope: gifted beyond all reason, he is an artist of immense protean talents and a deep soulfulness.
"In Battling Boy, Pope has spun a smashingly beautiful adventure about a not-so-powerful boy-god sent down from the higher dimensions to save a crumbling city from the monsters that afflict it.  Rapturously inked and drawing upon what feels like the entire tradition of pulp storytelling, Battling Boy is a thunderclap of a book--a kaleidoscopic mash-up of the highest order where kaiju mix it up with science heroes, and where a girl named Aurora takes up her fallen father's jet-pack (and his weapons) and nearly steals the whole show.  Friends, this book is a number one stunner and the second installment cannot come soon enough."
-- Junot Díaz, Pulitzer-Prize winning author of The Brief Wondrous Life of Oscar Wao
"Paul Pope's delightful and original Battling Boy is the adventure of the year!"
--Jeff Smith, Eisner Award-winning author of Bone
"Full of energy, precision, and pure kick—not to be missed."
--Scott Westerfeld, author of Uglies
"Pope is set to soar to glory."
--Wired
"A new generation hero."
--Entertainment Weekly