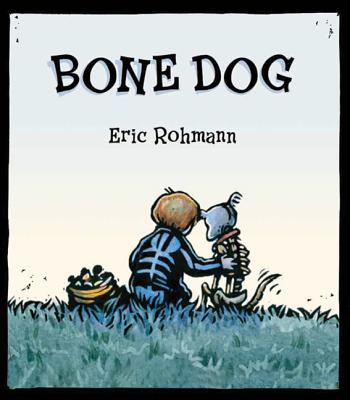 Bone Dog (Hardcover)
Roaring Brook Press, 9781596431508, 32pp.
Publication Date: July 19, 2011
Description
One of "School Library Journal"'s Best Picture Books of 2011
One of "Horn Book"'s Best Picture Books of 2011
Ghost dogs and skeletons in a tall tale with a tender heart from the Caldecott Medal-winning creator of "My Friend Rabbit."
Gus doesn't feel like doing much after his dog Ella dies. He doesn't really even feel like dressing up for Halloween. But when Gus runs into a bunch of rowdy skeletons, it's Ella--his very own Bone dog--who comes to his aid, and together they put those skeletons in their place. A book about friendship, loss, and a delightfully spooky Halloween.
About the Author
Eric Rohmann won the Caldecott Medal for My Friend Rabbit, and a Caldecott Honor for Time Flies. He is also the author and illustrator of Clara and Asha, A Kitten Tale, and The Cinder-Eyed Cats, among other books for children. He has illustrated many other books, including Last Song, based on a poem by James Guthrie, and has created book jackets for a number of novels, including His Dark Materials, by Philip Pullman. Rohmann was born in Riverside, Illinois in 1957. He grew up in Downers Grove, a suburb of Chicago. As a boy, he played Little League baseball, read comic books, and collected rocks and minerals, insects, leaves, and animal skulls. Rohmann has his BS in Art and an MS in Studio Art from Illinois State University, and an MFA in Printmaking/Fine Bookmaking from Arizona State University. He also studied Anthropology and Biology. He taught printmaking, painting, and fine bookmaking at Belvoir Terrace in Massachusettes and introductory drawing, fine bookmaking, and printmaking at St. Olaf College in Minnesota. He lives in a suburb of Chicago.
Praise For Bone Dog…
"Several moments border on frightening, but this is ultimately a tender look at love's never-ending reach." --Booklist "On Halloween night the ghost of a little boy's dog returns to help him combat some bossy skeletons. It's by turns spooky and heartwarming." --People "…dog lovers will likely delight in this quiet story of a dog's devotion even beyond the grave." --BCCB "Sometimes scary, often funny and ultimately heartwarming, Rohmann's tale successfully balances a tight text full of tough emotions with clear images of an everlasting friendship." --Kirkus STARRED  "Sad, spooky, and comforting by turns, this deceptively simple approach to the loss of a pet quickens and gladdens the heart." --School Library Journal "It's an offbeat mixture of humor and sadness…Some may find the sight of Ella as a skeleton off-putting; others will find comfort in the idea that a dog's loyalty transcends death." --Publishers Weekly  
Advertisement