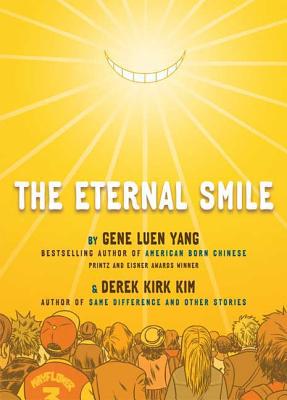 The Eternal Smile
Three Stories
Paperback

* Individual store prices may vary.
Description
From two masters of the graphic novel--Gene Luen Yang (American Born Chinese) and Derek Kirk Kim (Same Difference and Other Stories)--come three magical tales of fantastical adventure through the worlds we live in and the worlds we create.

The story of a prince who defeats his greatest enemy only to discover that maybe his world is not what it had seemed.

The story of a frog who finds that just being a frog might be the way to go.

The story of a women who receives an e-mail from Prince Henry of Nigeria asking for a loan to help save his family – and gives it to him.

With vivid artwork and moving writing, Derek Kirk Kim and Gene Luen Yang test the boundaries between fantasy and reality, exploring the ways that the world of the imagination can affect real life.

The Eternal Smile is the winner of the 2010 Eisner Award for Best Short Story.

Gene Luen Yang is the National Ambassador for Young People's Literature and is a MacArthur Fellow, a recipient of what's popularly known as the MacArthur "Genius" Grant.
Praise For The Eternal Smile: Three Stories…
"This dream-team matchup of Yang and Kim brings together three strikingly different graphic short stories. ... Visually, each story is a world unto itself...defined by a well-polished sensibility that works wonders in concert with the multiple-layered themes being explored. Absolutely not to be missed by anyone who welcomes the leaps available solely to graphic storytelling." —Booklist, STARRED REVIEW

"A rousing and thought-provoking exploration of fantasy versus reality from the much-lauded comics veterans Yang and Kim. ... Begging for multiple readings, this exceptionally clever examination of fantasy and perception is one to be pored over and ruminated upon." —Kirkus Reviews, STARRED REVIEW

"Winning characters and unorthodox, compelling plot twists make this trio of tales highly recommended for teen and adult collections. Excellent also for educators as case studies to teach comics and short story writing." —Library Journal

"Yang and Kim explore the power of dreams and, more to the point, the power of waking up. ... It's an optimistic volume, with big questions growing out of superbly inventive storytelling." —The Horn Book, STARRED REVIEW

"In each story, the punchline tips the fantasy back to a surprising reality that is ultimately affirmative for the characters in different ways. ... Taken together, the stories offer opportunities for discussion about the multiple ways fantasy can enrich our lives, as well as some of its attendant dangers." —Bulletin of the Center for the Children's Book

"Two pros in action... Longtime friends Yang, who wrote the comics, and Derek Kirk Kim, who illustrated...acknowledge the human need for escape (in a clever twist within 'Duncan's Kingdom,' comics themselves are the escape) but also ultimately to own and make decisions about one's reality. [The Eternal Smile] widens the scope of the way comics work and their infinite potential for creativity and for teaching us about ourselves." —Shelf Awareness

"Printz Award winning author Yang and Eisner Award winning author Kim...never go exactly where the reader expects and the results are compelling. ... The art is distinct to each story, whether old-fashioned comic book, manga, kiddie-comic, or a limited palette indy comic. The title is fitting - these dark stories end with a smile and some hope. All is not totally well, but you get the feeling things will be okay." —Geri Diorio, VOYA

"The Eternal Smile entwines fantasy and reality with remarkable ease into a delightful story. Surprise twists will keep readers engrossed to the very last page. Yang and Kim cater to fans of all genres, as they gracefully touch on nearly every subject imaginable. ... Every element of this graphic novel is woven together into a flawless masterpiece." —Lucy Freeman, teen reviewer
First Second, 9781596431560, 176pp.
Publication Date: April 27, 2009
About the Author
Gene Luen Yang writes, and sometimes draws, comic books and graphic novels. As the Library of Congress' fifth National Ambassador for Young People's Literature, he advocates for the importance of reading, especially reading diversely. American Born Chinese, his first graphic novel from First Second Books, was a National Book Award finalist, as well as the winner of the Printz Award and an Eisner Award. His two-volume graphic novel Boxers & Saints won the L.A. Times Book Prize and was a National Book Award Finalist. His other works include Secret Coders (with Mike Holmes), The Shadow Hero (with Sonny Liew), New Super-Man from DC Comics (with various artists), and the Avatar: The Last Airbender series from Dark Horse Comics (with Gurihiru). In 2016, he was named a MacArthur Foundation Fellow.

DEREK KIRK KIM is the award-winning author and filmmaker behind "Same Difference," "Mythomania," "Good As Lily"(with Jesse Hamm), and "The Eternal Smile"(with Gene Luen Yang.) He has also contributed stories and artwork to numerous anthologies including "Fables: 1001 Nights of Snowfall," "Flight, Volume 1," and "Bizarro World."