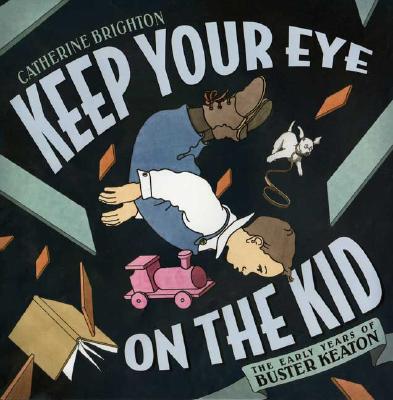 Keep Your Eye on the Kid: The Early Years of Buster Keaton (Hardcover)
The Early Years of Buster Keaton
Roaring Brook Press, 9781596431584, 32pp.
Publication Date: April 1, 2008
* Individual store prices may vary.
or
Not Currently Available for Direct Purchase
Description
FAMOUS AT FOUR Four-year-old Buster Keaton became one of the best-known comedians of his age and inches when his father threw him across a vaudeville stage, shouting "Keep your eye on the kid " The crowd roared as he easily landed on his feet and instantly became a star. As Buster grew, he set his sights on the budding world of Hollywood and went on to become one of America's most beloved silent-film stars. Airy detailed illustrations evoke small-town USA in the early 20th century. Told in Buster's voice, this captivating biography introduces young readers to a boy who became an American icon and changed the face of comedy and the film world forever.
About the Author
Catherine Brighton has written and illustrated many successful children's books, most recently, "Fossil Girl: The Story of Mary Anning," which was named one of the Best Books of the Year by "School Library Journal." Ms. Brighton lives in London.
Praise For Keep Your Eye on the Kid: The Early Years of Buster Keaton…
Kirkus Reviews Starred Review Born on the road to vaudevillian parents, "Buster" Keaton earned his nickname from fellow performer Harry Houdini after falling down several flights of stairs as a young child. That was but the beginning of a notable stage and film career highlighted by often-elaborate stunts that made him one of the first and greatest comic movie stars ever. In a short first-person account illustrated with precisely detailed period scenes, Brighton traces Keaton's childhood in vaudeville and his introduction to the then-nascent art of filmmaking. Even while depicting a speeding locomotive demolishing a house and other renowned movie moments, her art has a formal air that perfectly echoes her central figure's distracted, expressionless demeanor. Like Don Brown's Mack Made Movies (2003), this engaging look back at the silver screen's silent era captures the heady excitement of making—and watching—the early classics and can't help but lead a new generation of viewers into rediscovering them. (author's note, recommended sources and films) The Horn Book Magazine (Primary) When comedian Buster Keaton was a child performer in vaudeville, the audience preferred him not to smile, and his dad would whisper, "Face," to remind him to keep a serious expression no matter what the antic. In this picture-book biography, art imitates life through a deadpan text that outlines Buster's life from birth to his early days in Hollywood. "As for school, I went only one day. Miss What's-Her-Name said, 'You, Keaton, give me a sentence with the word delight.' Without thinking, I said, 'It's dark, turn on delight.'" Brighton uses comic-book frames masterfully. On some pages, narrow horizontal frames show a perspective differing from the main illustration, while on others two vertical frames propel the action. Exceptions come at pivotal points in the narrative. In one, Buster fiddles with a movie camera; two vertical frames show this moment, one from far away, and the second as a close-up revealing the parts of the machine. The text imparts the importance of the variation: "Gee, that thing, I loved it. Just the feel of it." Appended are an author's note, a brief bibliography of adult books, and a list of Keaton films available on DVD that invite further exploration of the man and his movies. b.c. Booklist
In this vivid account of Buster Keaton's early years, he calls himself a "backstage baby," performing in his parents' vaudeville act from childhood. Despite his father's disapproval, Keaton fell in love with movies and later learned the film business at a friend's studio. The story ends with Keaton in charge of his own studio. Written in first person, the text consists of a few simple, conversational lines per page. In the author's note, Brighton mentions the difficulty of separating fact from fiction since Keaton was noted for telling good stories, including the anecdote (illustrated in the book) in which a tornado sucks the boy out the window and sets him down, unharmed, on Main Street. With cartoon-style panel layouts, clean line drawings, and washes in muted colors, aspects of the enticing illustrations are reminiscent of art Keaton could have seen as a child in Little Nemo comic strips and the picture books of Maurice Boutet de Monvel... this is a fitting tribute to a movie legend.— Carolyn Phelan *Starred Review * Publishers Weekly, Also the "Featured" Review in the April 17, 2007 issue of PW Children's Bookshelf Newsletter

Brighton (My Tour of Europe by Teddy Roosevelt Age Ten) follows the great silent actor and filmmaker Buster Keaton from his birth to vaudeville parents to his early 30s, when he emerged as a daring comic auteur. The helicopter-parented generation should find the stories of Keaton's itinerant, rough-and-tumble showbiz life tantalizing: he got his start at age three when his father literally threw him across the stage ("Keep your eye on the kid!"), and he attended only one day of school ("Yep, I got expelled for wisecracking, and that was it. I never went back. Ever"). Brighton has created many picture biographies, and this may be her best effort yet. The tough-talking first-person narration has the cadence of someone who was treated as an adult almost from birth; the detailed images evoke the mise-en-scène of silent movies and give a dreamy grace to even the most slapstick moments. Readers of any age will close the book with an itch to see Keaton's movies—or at least catch his most famous scenes on YouTube. Ages 5-8. (Apr.)


Advertisement