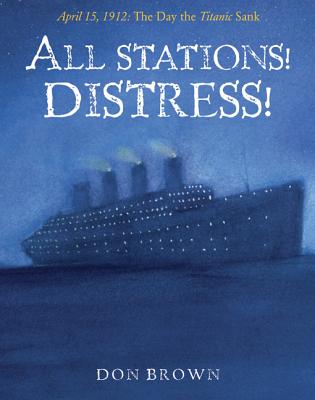 All Stations! Distress!: April 15, 1912: The Day the Titanic Sank (Hardcover)
April 15, 1912: The Day the Titanic Sank
Roaring Brook Press, 9781596432222, 64pp.
Publication Date: December 9, 2008
Description
THE "UNSINKABLE" MEETS THE UNTHINKABLE -- A gripping account of the ill-fated maiden voyage of the Titanic.
It took 4,000 men to build it, 23 tons of animal grease to slide it into the ocean, 100,000 people to wave bon voyage, but only one wrong move to tear the Titanic apart, sinking it into the pages of history. On a cold moonless night in April of 1912, 2,000 passengers--both the uber-rich enjoying a luxury cruise and the dirt-poor hoping to find a new life in America--struggled to survive. Only 700 succeeded. Lifeboats were launched half-full; women were forced to leave their husbands and sons behind; and even those who made it out alive were forever haunted, constantly wondering "why me?" Told through captivating prose and chilling first-hand accounts, Don Brown take the pieces of the broken Titanic and gives it such a vivid shape that you'd swear you've never heard the story before.
About the Author
Don Brown's previous books include Kid Blink Beats the World, Mack Made Movies and Across a Dark and Wild Sea. He lives on Long Island, New York.
Praise For All Stations! Distress!: April 15, 1912: The Day the Titanic Sank…
STARRED REVIEW, School Library Journal"Brown's watercolor illustrations capture the grandeur of the ship and the enormity of the failed escape...Brown includes first-person testimony in the narrative, which ends with the rescue of some of the survivors. This is a wonderfully accessible version of an endlessly fascinating subject." STARRED REVIEW, Horn Book"The glory of All Stations! Distress! is in Brown's moody watercolors done with a brush dipped in stardust and frozen mist. They reach a terrifying crescendo as the ship upends before the final dive. A brief bibliography includes Walter Lord's A Night to Remember, a book that's been igniting generations of Titanic fans—and a reason to head back to the library for the young reader of this rousing story." Booklist"While the riveting text could stand alone, the illustrations are an integral part, enhancing without overwhelming. They are appropriately somber, filled with action, but not overly dramatic. This is an excellent example of how a complex topic can be made accessible and interesting to young children."
Advertisement