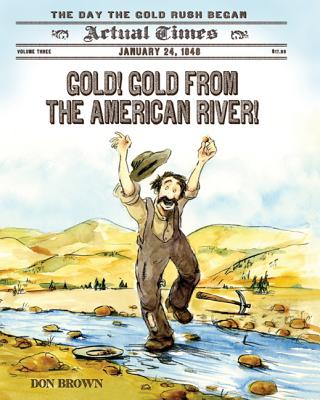 Gold! Gold from the American River! (Hardcover)
Flash Point, 9781596432239, 64pp.
Publication Date: February 15, 2011
Description
When James Marshall found a small, soft shiny stone in a California stream, he knew it could only be one thing: Gold His cry of discovery would be heard around the world. In the third installment of Don Brown's Actual Times series, Gold Gold from the American River is the story of the California gold rush--the uncharted journey across hostile land, the laborious process of panning for gold, the success of savvy entrepreneurs, and the fortunes of the marginalized, from slaves and American Indians to women and foreigners.
About the Author
Don Brown is the author and illustrator of many highly praised picture-book biographies and histories for children. He lives on Long Island, New York.
Praise For Gold! Gold from the American River!…
"There are many other short, illustrated, cartoony books about the Gold Rush for the elementary age range, but this one manages to combine pathos and humor, and to communicate much with an engaging and brief text, making it a first-choice introduction to the subject."—Horn Book Magazine
"The inventive page compositions and scratchy watercolor cartoon figures carry small, telling dramas (the tiny grin that punctuates a successful panner's face is priceless), and sweeping western landscapes come into full relief, bringing not only visual context but a sense of playfulness to the book. A solid look at an eventful period in American history." —Booklist
"The book presents a thorough description of a unique period in American history, illustrated in a manner to attract younger readers."—School Library Journal
"The harmony of narration, wry watercolor pictures, and quotes from the miners themselves nonetheless makes this an engaging introduction for children who are just beginning to explore historical accounts beyond their social studies textbooks." —
BCCB
 "This well-researched account details how several things originated from the country's gold fever—such as the idiom "pans out," Levi Strauss jeans, and the dramatic expansion of the city of San Francisco." —
Publishers Weekly
Advertisement