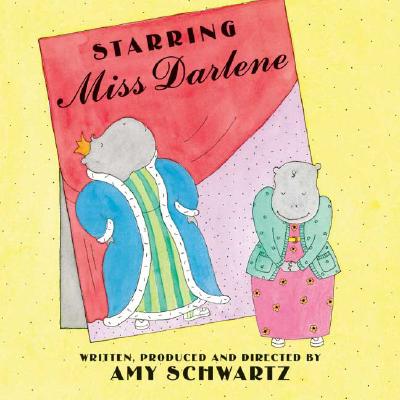 Starring Miss Darlene
Hardcover

* Individual store prices may vary.
Description
A STAR IS BORN, HIPPO STYLE in this riotous tribute to life upon the stage. Determined to be a star, Darlene signs up for theater class. And she succeeds, though not in the way you might expect. In Noah's Ark she's cast as the Flood, with cataclysmic results. She mangles her lines in a science fiction epic. And as Sleeping Beauty, she, well, sleeps. The funniest book yet by an acclaimed author and artist, this picture book romp will have readers dancing in the aisles.
Praise For Starring Miss Darlene…
NCTE'S Language Arts
A sweet hippo, Darlene, has a passion for being a famous theater actress. After the audition, she gets the 'simple, yet vital' role of the flood in Noah's Ark. On the stage, she stumbles and spills water on several audience members, including a theater critic from The Daily Weekly. Amazingly, the newspaper announces that 'Friday's show was a drenching, yet refreshing experience.' Darlene is again praised for 'deepening the play's mystery' when she messes up her lines in a science fiction play. However, for the third show, Sleeping Beauty, she seems to make a critical mistake: Sleeping Beauty really falls asleep and does not wake up with the prince's kiss. It would be an interesting task for readers to guess what the critic will say about Darlene's performance in Sleeping Beauty. Schwartz's soft watercolor outlined with a fine ink enhances three connected and uplifting stories about Darlene's dream and her efforts to make it come true. This warm book will brighten young readers' hearts with a subtle message that when you do your best, your efforts will pay off.
Roaring Brook Press, 9781596432307, 32pp.
Publication Date: August 7, 2007
About the Author
Amy Schwartz has writen and illustrated many classic book for children, including "Bea and Mr.Jones," a Reading Rainbow featured title, "A Teeny Tiny Baby," a "New York Times" Best Illustrated Book, "What James Likes Best," winner of the Charlotte Zolotow Award, and most recently, "A Beautiful Girl." She resides in Brooklyn, New York.
or
Not Currently Available for Direct Purchase