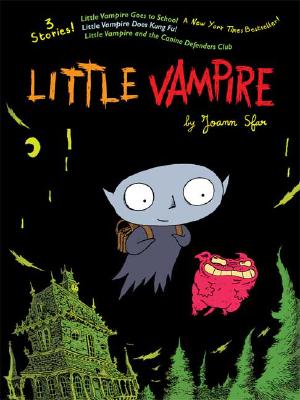 Little Vampire (Paperback)
First Second, 9781596432338, 96pp.
Publication Date: April 29, 2008
* Individual store prices may vary.
Description
Living in a house filled with grown-up ghouls and monsters, Little Vampire is so lonely that he's even willing to go to school if that's what it takes to find friends. Unfortunately, school seems to be filled with children who are still alive. . . .
Little Vampire finds friendship with a boy named Michael, and they embark on adventures in the three stories in this collection. Included in this book are Little Vampire Goes to School (a New York Times Bestseller), Little Vampire Does Kung Fu, and Little Vampire and the Society of Canine Defenders (now published in the United States for the first time). Insightful and inventive, Joann Sfar brings Little Vampire and Michael's fantastical world to young readers in stories that both feed the imagination and resonate with emotional truth.
About the Author
The prodigious Joann Sfar has over 100 books in print and an international following that spans readers of all ages. His works include "Sardine in Outer Space," "Vampire Loves," "Klezmer," and "The Professor's Daughter." He was recently declared a 2007 Eisner Award nominee in the category of Best Writer/Artist, and Citizen Films is producing a documentary about him. He lives in Paris with his wife, two children, and cat.
Praise For Little Vampire…
Excerpt from "Little Vampire Rises Again" published February 28th 2008 in Publishers Weekly
The series . . . centers on the title character and an orphaned boy, Michael, whom Little Vampire befriends after doing the boy's homework at night. The pair, as well as a varied cast of monsters, embarks on adventures that include learning martial arts to combat a bully and rescuing dogs being used for cosmetics tests. The stories do not shy away from serious topics such as death or religion—in one scene in Little Vampire Goes to School, Michael says that he doesn't owe God anything, if He even exists, because his parents had died. "Joann is very much in tune with his own childhood, and it's not a rose-colored glasses view," Siegel says. "He is very deliberately trying to have a kind of release for some of the dark things that children need to cope with as they grow up."
For full text of the article online click here
Review in Kirkus Reviews
Three episodes—two of which were originally published in English separately in 2003—feature the diminutive, grey-skinned bloodsucker, his human friend Michael and a haunted-houseful of spectacularly lurid ghouls and creepies. In the first, lonely Little Vampire meets Michael after going to his school at night, sitting at his desk and doing his homework. In the second Michael receives kung fu lessons from an eldritch instructor in hopes of ridding himself of a bully. The third, titled "The Canine Defenders Club," has the two buddies, with help from Little Vampire's gruff, scarlet pooch Phantomato, breaking into a cosmetics-testing laboratory to rescue three captive dogs. All three tales progress in small, brightly colored panels packed with brisk action, sight gags and dialogue in miniscule type. Fans of Emmanuel Guibert's Sardine in Outer Space series, which is illustrated by Sfar, will find his solo outings just as appealingly off-the-wall. Libraries that bought the first two chapters (which were issued by a different publisher) will need this as a value-added replacement. (Graphic novel. 9-11)
Review in VOYA – 4Q 3P
This graphic novel includes three short stories about the friendship between a child vampire and his human friend.  In 'Little Vampire Goes to School,' Little Vampire is lonely and wants to go to school.  There he does homework for Michael, the human who sits at his desk during the day.  After leaving one another notes, they meet and become good nighttime friends.  In 'Little Vampire Does Kung-Fu,' Michael has been bullied at school and learns kung fu to get even.  The last story, 'Little Vampire and the Canine Defenders Club' finds Michael and Little vampire rescuing three dogs from a secret lab that tests products on them.
The first two stories were previously published in individual volumes (Simon & Schuster, 2003).  Sfar, a prolific French comic artist, creates a unique friendship story that reaches different aged readers.  The humor sprinkled throughout the panels will draw both young and old.  There is discussion of killing bullies, testing on lab dogs, and such, but in each instance, a mini-lesson is taught on tolerance and responsibility.  The cartoony, colored artwork uses dark greens, blues, and purples for the nighttime activities, which keep the tales' moods from being too dark and scary.  The book is best suited for libraries with younger graphic novel enthusiasts.  – Kristen Fletcher-Spear
or
Not Currently Available for Direct Purchase