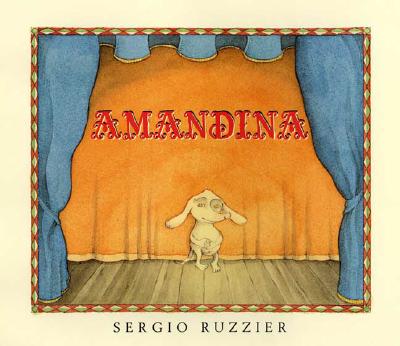 Amandina
Hardcover

* Individual store prices may vary.
Other Editions of This Title:
Hardcover (3/30/2012)
Description
AMANDINA HAD EVERY TALENT MADE FOR THE STAGE, EXCEPT ONE: Confidence.
She dances, sings, acts, and performs acrobatics, but no one knows because Amandina is terribly shy. Determined to change that, she rents a run-down theater and prepares to give the show of her life. She builds the sets, makes the costumes, and, most importantly, invites everyone in town. When the night of the big performance comes, Amandina nervously opens the curtains…to find all of the chairs empty. Disheartened, she performs anyway, not realizing that she does have an audience member—a very tiny one—who is about to make a big difference in Amandina's life.
Praise For Amandina…
Publishers Weekly "Ruzzier creates a haunting intimacy with his watercolors of a centuries-old Italian town (the theater is a tiny Umbrian jewel) and its strangely human-eyed animal citizens, as well as his unvarnished language ("Nobody had come. Sometimes these things happen, and nobody can say why"). Showing a magical insight into the imagination of small children, he allows Amandina an intense sweep of feeling before granting her no less—but no more—than her wish. The mood he casts will resonate, particularly with introspective readers."
School Library Journal FUSE #8 Blog"There is a very specific feeling you get from a picture book when the combination of text and image is pitch perfect. It's a very hard thing to get, mind you. You might have a book where the words are lovely and the pictures exciting, but if the two don't work in tandem then your end product is going to end up a merely okay bit of indistinguishable dribble. A hint of what might have been will hover over the reading experience. I mention this because I'm trying to find a way to explain why Amandina by Sergio Ruzzier is as delicately miraculous as it is. Maybe it has something to do with the fact that it's a Neal Porter book and Mr. Porter is known for helping to bring perfect little books into the world (see: Dog and Bear). Maybe it has to do with author/illustrator Sergio Ruzzier, whose previous books and collaborations have played effectively with tone and story. Maybe it's the thickness of the paper or the shade of the watercolors. Maybe it's everything altogether or maybe it's none of this at all. Whatever the case, if you are looking for a story that is sweet but not saccharine and carries a lovely little message without beating you over the head with a didacticism stick, this is the book for you. A book designed to be the perfect gift for any 4-8 year old child." School Library Journal "The artwork combines delicate lines and faded colors to create a fanciful stage for this likable character."
Kirkus Reviews"Quiet, precise, whimsical watercolor illustrations in subdued pastels enhance the surreal ambiance of Amandina's solitary exploits. A subdued but charming tribute to determination and perseverance."

Roaring Brook Press, 9781596432369, 32pp.
Publication Date: September 2, 2008
About the Author
SERGIO RUZZIER has written and/or illustrated numerous books including Karla Kuskin's MOON, HAVE YOU MET MY MOTHER? His illustrations have appeared in "The New""York Times," "The New Yorker," and "The Wall Street Journal." He lives in New York City.
or
Not Currently Available for Direct Purchase