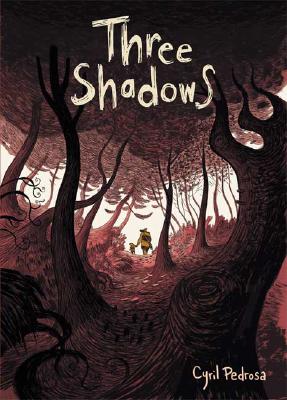 Three Shadows (Paperback)
First Second, 9781596432390, 268pp.
Publication Date: April 1, 2008
* Individual store prices may vary.
Description
Can you ever escape your fate?
Three shadows stand outside the house and Louis and Lise know why the spectral figures are there. The shadows have come for Louis and Lise's son, and nothing anyone can do will stop them. Louis cannot let his son die without trying to prevent it, so the family embarks on a journey to the ends of the earth, fleeing death.
Poignant and suspenseful, "Three Shadows" is a haunting story of love and grief, told in moving text and sweeping black and white artwork by Cyril Pedrosa.
About the Author
Cyril Pedrosa began his career in animation, working on the Disney films "Hunchback of Notre Dame" and "Hercules." He has since become a rising star in a new kind of graphic storytelling, combining the influences of animation and the literary traditions of Borges, Garcia Marquez, and Tolkien to create a unique visual handwriting.
Praise For Three Shadows…
Review in March 15th 2008 issue of Booklist 
Country life is simple and sweet for young Joachim and his parents, Louis and Lise—filled with cozy winter nights, lazy summer days, and, always, the chores associated with running the orchards. One day three Shadows appear on the horizon, and everything changes. Louis and Lise know that these shadowy fates have come for Joachim. Determined to save the boy, Louis flees with Joachim, desperate to stay one step ahead of the deathly Shadows. Pedrosa's intriguing, poignant fable unfolds beautifully in both words and pictures. The fluidity of the art reflects Pedrosa's roots in animation, and the high-contrast shading effectively underscores the tension and emotion of the narrative. One brief instance of nonsexualized nudity should be noted, but that detracts not at all from this dark, well crafted tale.
Review in Publisher's Weekly
Rarely has the succulent appeal of quiet country life been portrayed with such sensual skill as it is in Pedrosa's limpid graphic novel about a boy, his parents and the trio of hooded riders who watch them. Pedrosa adeptly establishes the mood of timeless bucolic idyll immediately, with his swirling, sometimes harshly etched, black-and-white renderings of the land cultivated by hulking farmer Louis; his wife, Lise; and their scampering boy, Joachim. The family's playful antics are overshadowed first by ruminative narration, then by three riders, who watch the family with unnerving patience from the foggy distance. A local witch tells Lise that the "shadows" have come for Joachim, after which Louis impetuously makes a run for it with his son, warned that he must treasure every moment with the boy. The resulting story is more Appointment in Samarra–style dream than chase, with Louis and Joachim floundering from one mysterious episode to the next, the implacable shadows following, as in a nightmare. French artist Pedrosa's background as a Disney animator is clearest in his exaggerated movements and facial expressions, but the story (inspired by the death of a close friend's young child) is a glorious and revelatory fable, beautiful in its grief.
or
Not Currently Available for Direct Purchase