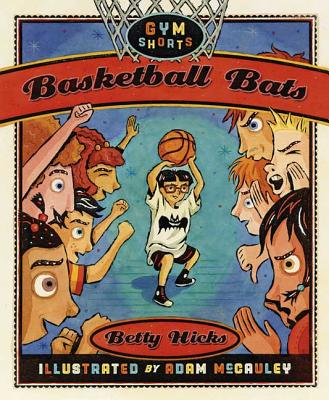 Basketball Bats (Hardcover)
Roaring Brook Press, 9781596432437, 55pp.
Publication Date: April 1, 2008
* Individual store prices may vary.
or
Not Currently Available for Direct Purchase
Description
UNBEATABLE TEAM--MAYBE. UNBEATABLE READING--FOR SURE The first novel in Betty Hick's Gym Shorts series is a slam-dunk for newly-independent readers.
Henry and his friends on Rockford Road are a basketball team unstoppable on their driveway court. But without team t-shirts or an official name can they take on The Tigers, a team that plays at the huge YWCA and has a player old enough to shave? Young readers will cheer as The Bats take on a name and stick together to beat the odds.
"Basketball Bats" is a 2009 Bank Street - Best Children's Book of the Year.
About the Author
Betty Hicks, highly regarded for her novels for middle grade and older readers, turns her attention to children ready to begin reading real novels, in this first book in her Gym Shorts series of humorous sports stories, filled with friendship and action. Betty Hicks lives in Greensboro, North Carolina. Adam McCauley is the illustrator of the successful middle-grade fiction series, Time Warp Trio by Jon Scieszka, as well as Louis Sachar's Wayside School books. He lives in San Francisco, California.
Praise For Basketball Bats…
 Kirkus Reviews
This first in a series of sports-oriented books uses basketball to explore such topics as sportsmanship and friendship. Henry and five friends, three boys and two girls, are challenged to a basketball game by a sketchy group of players calling themselves the Tigers. Turns out the Tigers cheat, but the newly dubbed Bats win anyway; their troubles with the Tigers don't end there, however. In the second game Henry hogs the ball in an effort to compensate for the Tigers' new player, Teen Boy, but the Bats' loss makes him the goat. In the second book in the series, Goof-Off Goalie (ISBN: 978-1-59643-244-4), the same friends play team soccer and this time Henry's friend Goose takes the fore. He thinks being goalie will be a cinch. Turns out it isn't so easy—it takes practice and good friends. With McCauley's expressive spot illustrations accompanying Hicks's breezily simple text, this series will be a great stepping-stone for reluctant or new readers, easily introducing topical issues with its blend of humor and sports. A real score! (Fiction. 7-10)
Advertisement