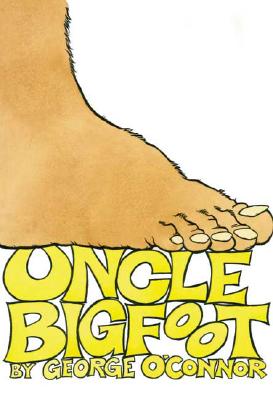 Uncle Bigfoot (Hardcover)
Roaring Brook Press, 9781596432710, 32pp.
Publication Date: April 1, 2008
* Individual store prices may vary.
Description
WHAT'S TEN FEET TALL, completely covered in hair, hard to photograph, and has the largest feet in the world? Your uncle
When a spunky kid meets his long-lost Uncle Bernie, he's positive that his uncle isn't so much a Bernie as he is a BIGFOOT. But as he sets out to prove-it, he realizes that maybe Bernie's just different, and different can be a very great thing. With its HUGE Uncle Bernie fold-out and illustrations filled with hidden jokes and references to other mythological characters, this is sure to make a BIG hit with kids.
About the Author
George O'Connor is an author, illustrator and cartoonist. His first graphic novel, "Journey Into Mohawk Country," used as its sole text the actual historical journal of the seventeenth-century Dutch trader Harmen Meyndertsz van den Bogaert, and told the true story of how New York almost wasn't. He followed that up with "Ball Peen Hammer," the first graphic novel written by playwright Adam Rapp, a dark, dystopian view of a society's collapse. Now he has brought his attention to Olympians, an ongoing series retelling the classic Greek myths in comics form. In addition to his graphic novel career, O'Connor has published several children's picture books, including the "New York Times" best-selling "Kapow," "Sally and the Some-Thing," and "Uncle Bigfoot." He lives in Brooklyn, NY.
Praise For Uncle Bigfoot…
Kirkus ReviewsA startled lad discovers that his seemingly ordinary family has some uncommon relatives when Uncle Bernie comes for a visit. Covered with hair, sporting humongous hands and feet and so tall that his arrival at the front door requires a foldout to depict, Bernie looks like . . . could he be? Though the boy's parents pooh-pooh the notion, all the evidence points that way. Smiling genially and playing with the more accepting baby, Bernie cuts a comical figure in O'Connor's cartoon pictures, thanks to outsized extremities, hilariously undersized clothes and a belly of truly gargantuan proportions. Eventually the anxious narrator is won over. "Some people are just a little more different," he concludes—which leaves him looking forward, after Bernie's departure, to an upcoming visit from "Aunt Nessie." Parental readers as well as children old enough to wonder whether their own family trees sport some peculiar branches will be amused. Publishers Weekly A funny thing happened on the way to the gene pool, as far as O'Connor's narrator is concerned: he got an Uncle Bernie who bears a striking resemblance to a yeti. Said uncle is so big that it takes an entire gatefold to capture his huge body, and so hairy that it takes seven comic strip-style frames to survey all his hirsuteness...O'Connor is definitely on to something: most kids have at least one relative they deem weird (the narrator ultimately discovers that he has at least two). And even children whose bloodlines are disappointingly normal will enjoy coasting along with the breezy storytelling, which combines the slapstick of a funny graphic novel with the heartwarming irreverence of a Disney Channel original movie (the group-hug moral: 'There are lots of people in the world and all of them have something a little different about them too'). Visual jokes in the backgrounds – a framed photo of the family posed near a 'Welcome to Roswell' sign; a notebook labeled 'Crop Circles' – will keep older readers amused as well. Booklist

O'Connor, the author of Kapow! (2004), a superhero morality tale that elementary-school boys can't stop reading, returns to appealing, fantastical subject matter in this story of a boy and his strange uncle. It seems that Uncle Bernie is coming for a visit, but when the boy asks to see a picture of this unknown uncle, his parents can't provide one. After much anticipation, Bernie arrives—in a three-page foldout that delivers the surprise of Bernie's huge scale. Bernie, it turns out, has giant feet and hair just about everywhere, and he definitely takes some getting used to. Eventually, the boy learns that being different doesn't necessarily mean trouble, a realization that prepares him for the arrival of yet another offbeat relative. O'Connor employs the humor of the absurd as he puts his big, hairy monster into the middle of daily chores, such as playing with the baby and fixing the car, while slipping in a few adult-targeted nods here and there to make this a lighthearted, enjoyable read for all. — Jesse Karp June 2008 issue of School Library Journal

K-Gr 2–When a postcard arrives announcing Uncle Bernie's imminent visit, Mom smiles, Dad grins, and the baby stares, wide-eyed. But big brother is clearly suspicious. Why isn't his uncle in the family photo albums? This line of inquiry is accompanied by mental pictures: Dracula poised to strike, a bank robber sneaking away with the loot, a technomonster that shows his fearsome teeth, etc. In the next scene, someone is knocking as the door splays, bursting at the frame. Uncle Bernie is indeed very large, very hairy, and has very big feet. Hilarious illustrations include a spread of feet, legs, and protruding tummy–plus the back of the boy's head, looking ever so tiny. The two pages are really a three-page foldout; readers finally get to see Uncle Bernie's head and torso. From where the narrator is standing, the view is downright mountainous, and the boy delves into research on "Bigfoots." The homey artwork is filled with delightful touches such as the way the youngster pictures his future self when his dad tells him that he'll probably get hairier, too, when he's older. The lesson here is that "There are a lot of people in the world and all of them have something a little different about them too," and the author adds a ton of fun by way of leavening the message. O'Connor is a sardonic, imaginative, and exuberant illustrator, and though the story stops in its tracks at the boy's uncharacteristic insight, it is only for a moment.–Susan Weitz, formerly at Spencer-Van Etten School District, Spencer, NY
or
Not Currently Available for Direct Purchase