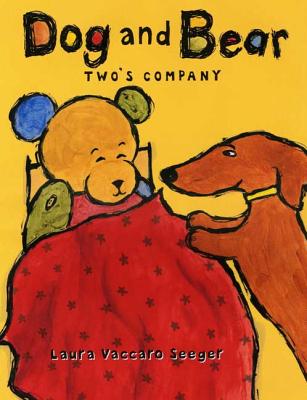 Dog and Bear: Two's Company (Hardcover)
Two's Company
Roaring Brook Press, 9781596432734, 32pp.
Publication Date: April 1, 2008
* Individual store prices may vary.
or
Not Currently Available for Direct Purchase
Description
WHAT'S BETTER THAN ONE DOG AND BEAR BOOK? TWO
In three new stories, the two dearest of friends celebrate Bear's birthday, have their first falling out, and take care of each other when Dog is under the weather.
Dog and Bear: Two's Company is a 2009 Bank Street - Best Children's Book of the Year. This title has Common Core connections.
About the Author
Laura Vaccaro Seeger is a New York Times best-selling author and illustrator and the recipient of a 2008 Caldecott Honor, Theodor Seuss Geisel Honors for both 2009 and 2008, a 2007 New York Times Best Illustrated Book Award, and the 2007 Boston Globe/Horn Book Award for Best Picture Book. Her books include First the Egg, The Hidden Alphabet, and the Dog and Bear books, among others.Raised on Long Island, New York, Seeger began drawing at two years old and never stopped. For as long as she remembers, she wanted to write picture books. She received her B.F.A. degree at the School of Fine Art and Design at SUNY Purchase in Westchester, New York, and then moved to Manhattan, where she worked as an animator, artist, and editor in the network television business.Seeger lives in Rockville Centre, Long Island, with her husband, Chris, their two sons, Drew and Dylan, and their dog, Copper. She loves painting, surfing, tennis, playing the piano, and spending time with her family. She takes long walks at the beach every day and paints in her studio every night.
Praise For Dog and Bear: Two's Company…
Praise for DOG AND BEAR:
Winner, Boston Globe-Horn Book Award * "A happy crossover between early readers and read-alouds." - Kirkus Reviews, starred * "The enduring richness found in Lobel's Frog and Toad tales." - Horn Book, starred * "The eye-catching artwork shines with humor and warmth." -
School Library Journal
, starred * "Perfectly paced for new readers, who will love the dose of humor at each story's close." - Booklist, starred * "utterly charming... After turning the last page, young readers will beg ['Read to me again!'] for this enchanting trio of tales." -
Publishers Weekly,
starred
Publishers Weekly Starred Review
As in her first Dog and Bear book, Seeger (First the Egg) offers three beguiling tales fueled by give-and-take dialogues between a dachshund and a multicolored teddy bear. This time out, though, Dog and Bear's personalities seem a little further apart, with Bear emerging as a quasi-parental sort. In the opener, Dog announces, "I am running away," and Bear knows better than to fight. Bear helps Dog pack, says goodbye and adds, "I suppose you won't be staying for ice cream"—effectively changing Dog's plans without a word of protest. Next, Dog bakes and accidentally eats a birthday cake for Bear, who is nonetheless pleased ("What a beautiful candle!"). In the final story, Bear nurses an under-the-weather Dog. By the time Dog feels better, Bear needs a rest. Seeger employs casual gouaches in terracotta, ochre and olive green on a white ground, leaving imperfections visible. Her rough-hewn ink outlines and unpolished brushwork have homespun warmth, reminiscent of the paint-it-yourself glaze on a favorite mug. If Seeger keeps these coming (and readers will hope she does), Dog and Bear are likely to join the rarefied ranks of Frog and Toad, and George and Martha. Ages 3-7. (Apr.) 
The Horn Book Magazine Starred Review
Sequels are a tricky business, but Seeger does well with this new installment in which Dog and Bear navigate the bumps in the road of friendship. The three new stories, told mostly in dialogue, lend themselves to both independent reading and group sharing; young readers may also enjoy acting them out. The book opens with Dog, brow furrowed, stating, "I am very angry with you, Bear. I am running away." In a move familiar to smart parents everywhere, Bear calmly helps Dog pack his favorite toys and books, then brings out a treat impossible to resist: ice cream. The second story is borrowed directly from Winnie the Pooh, and used to just as good effect. Dog has made a delicious rainbow-sprinkled vanilla and strawberry cake for Bear but can't forego a little taste—and another, and another...And like Eeyore when faced with his empty Useful Pot, Bear is delighted with his special birthday candle (and none the wiser about the missing cake). The final story has a slightly under-the-weather Dog being a little too demanding of the solicitous Bear. Seeger demonstrates the power of the small brush stroke as Bear's eyebrows tell the whole story of what it means to be Dog's friend. A stark white background highlights the action—the rest is dark ink outlines with deep colors within. File this entry near Frog and Toad, Pooh and piglet, and George and Martha; then be prepared to read it again and again. r.l.s. 
Kirkus Reviews Starred Review
The two pals from last year's standout Dog and Bear return with three more stories that explore the little wrinkles that can develop in even the smoothest friendships. In "Ice Cream," an angry Dog declares that he is running away from Bear, even going so far as to pack his sticks before Bear's offer of ice cream makes him think twice. "Happy Birthday, Bear!" finds Dog baking a cake for Bear—with strawberry frosting and rainbow sprinkles—and then yielding to the temptation to eat all but the candle before Bear sees it. Finally, a dyspeptic Dog wears Bear out in "Sweet Dreams" by exploiting his friend's offer to help. Each wee tale, told almost entirely in dialogue paired with expressive, black-outlined paintings on a white background, develops the two characters' distinct personalities further—impulsive Dog and deliberate Bear are perfect foils. Variations in perspective, body language and expression convey a wealth of information to complement the straightforward text, inviting readers to make their own interpretations and leading them to an understanding of the complex dynamics of friendship.  
Booklist Starred Review
Seeger, whose First the Egg (2007) earned 2008 Caldecott and Geisel Honor Book awards, offers a sequel to her ALA Notable Children's Book honoree Dog and Bear (2007), which introduced a teddy bear and a dachshund who are very good friends. The three-part sequel opens with Dog declaring, "I am very angry with you, Bear. I am running away." Supportive Bear helps Dog pack and says goodbye before making offering ice cream that brings them together again. Next, Dog makes a cake for Bear's birthday but eats it, bit by bit. In the final tale, after attentively caring for tired Dog, Bear is so worn out that Dog returns the favor. Natural-sounding conversations are well matched with the artwork's bold lines and bright colors. Picture books about friends are common, and Seeger makes it all look deceptively simple. But besides the clear, simple story lines, the joy of these picture books is in the subtle way the pictures and text work together to evoke emotions familiar even to young children. — Carolyn Phelan  
School Library Journal Review
PreS–Dog and Bear are back in another book preschoolers will love. In the first story, Dog is angry at Bear and prepares to run away. Next, Dog makes a birthday cake for Bear, but then eats it himself. The last tale shows a demanding Dog and a weary Bear, followed by a sweet reversal and a gently happy conclusion. Using the briefest of texts paired with her simple paintings, Seeger brings out the subtlety that relationships between the very young can have. She also has a talent for focusing on the things kids care about most–for instance, how it feels when someone is bossy or how it feels to want something so badly you can't bear to share it. Her artwork, with bold colors and heavy lines, adds personality and interest. All in all, a great book for group or individual sharing.–Lauralyn Persson, Wilmette Public Library, IL 
Bulletin of the Center for Children's Books.
 R 3-5 yrs. Is the friendship firmly established in Dog and Bear: Two Friends, Three Stories (BCCB 6/07) in danger? It would seem so, since the first of these three stories involves Dog informing Bear that he's so angry with his friend that he's running away. Bear patiently supports Dog through his packing labors and then wistfully supposes Dog won't stay for an ice-cream snack, which, of course, is all the convincing Dog needs. In the second story, Dog makes Bear a birthday cake so delicious that he cant resist testing it out himself; in the third, Dog is feeling poorly, but he's not so unwell that he cant find plenty of helpful labors for kind Bear to perform in assistance. As in the first book, text is simple and its almost entirely couched in dialogue; even when Dog is alone and nibbling away at Bear's cake, he's exclaiming aloud over its irresistibleness. Character is effectively delineated through the compact words, though, with volatile Dog the childlike partner of Bear's more adult stability (really, Bear's getting gthe short shrift if this is an actual friendship). Sweeping, textured thick black lines form the outlines of the visual elements, enhancing the appearance of simplicity, as does the fact that most spreads are dominated by the figure of Dog (a rich weiner-dog brown) and Bear ( a harlequin confabulation of autumnal tones). Combining some of the relationship dynamics and toy-animal charm of Winnie-the-Pooh with a pared down form of style, this will make a cuddly read aloud for young storytimers. DS    
Barnes & Noble Review THE LONG LIST  
 Three more easy-to-read stories about every kid's favorite patchwork stuffed Bear and best friend, an emotional dachshund. 4+
Advertisement