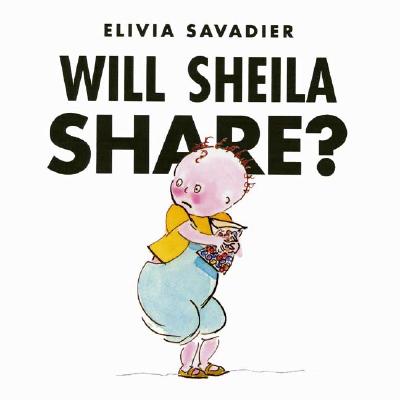 Will Sheila Share? (Hardcover)
Roaring Brook Press, 9781596432895, 24pp.
Publication Date: March 18, 2008
* Individual store prices may vary.
Description
SHEILA WON'T! BUT YOU WILL WANT TO SHARE this charmer with your favorite three, four, or five year old... Curly-headed round-bellied little Sheila, sweet in her overalls and t-shirt, is not one for sharing. Unless you want green beans. It takes a very loved and loving Nana who shares a hug and kiss to change Sheila's ways. Utterly simple, completely disarming, and absolutely true.
Will Sheila Share?
is a 2009 Bank Street - Best Children's Book of the Year.
About the Author
As she did in "No Haircut Today" ("pitch perfect language ... and spiky drawings that blend funny and fond." - "The Washington Post") and "Time to Get Dressed "("captures the complex relationship between parent and child with both wacky humor and exquisite tenderness." - "Publishers Weekly, "starred review), Elivia Savadier proves again that she is a master of economy, able to suggest more in a single line than others do in an entire book. Ms. Savadier lives in Massachusetts.
Praise For Will Sheila Share?…
Publishers Weekly - Starred Review The answer to the title question (which also functions as a comic, liturgylike refrain) looks dicey at best. At midpoint, Savadier captures her eponymous heroine in a paroxysm of selfishness: Sheila's face is pink with rage and her eyes wide with greed as she successively refuses to part with a huge ball, a bag of cereal and a plush bunny. But sweetly overstuffed Nana knows how to melt her granddaughter's heart, and while Sheila may not be exactly altruistic by the wrapup, at least she's discovered the joys of playing Lady Bountiful. Savadier's watercolor and ink pictures are particularly energetic this time, bringing to mind the emotional ferocity of Jules Feiffer crossed with the openhearted exuberance of Helen Oxenbury. As with her other not-to-be-missed books on similar themes (No Haircut Today!; Time to Get Dressed!), the author shows a shrewd understanding of how an uncooperative child can unnerve everyone—including the kid in question. Her pithy text and expressive, economical pictures deliver a reassuring response along with solid comedy. Kirkus ReviewsThere have been a number of attempts to address the difficult concept of sharing for toddlers, but Savadier approaches the topic for very young children in a very simple story. She uses a lot of white space with smallish, colorful, cartoonish drawings of Sheila, who grows progressively pinker with irritation as suggestions of sharing make her more and more annoyed. The first half of the story lists a number of occasions on which Sheila would not share whatever she happened to be holding at the time, especially with her infant sibling. The second half shows the adults discussing instances when Sheila can and has shared. When Sheila is faced with eating green beans, she is more than happy to share them with the family pet. Nana is always met with a shared kiss and hug, as well as the occasional glass of juice. Ultimately, Sheila receives so much approbation for sharing with her family members that she is more inclined to continue the behavior. The text is large and black with important words emphasized. This simple story should be just at toddler and preschooler's level of understanding as well as offering some relief to frustrated adults. School Library Journal Starred Review PreS-K–On the cover of this picture book, a red-faced redhead clutches a bag of candies while looking around in wide-eyed panic. In this deceptively simple ink-and-watercolor illustration, Savadier has captured the essence of a child's reluctance to share: If I give you some, I'm afraid I won't have enough for me; I'm afraid you'll take it all; I'm afraid you won't give it back. Minimal words and pictures complement one another so well that each page or spread tells its own story. As Sheila's family discusses what she won't share–"not her bunny, or her ball"–the curly-haired toddler seems to expand as she angrily protects her toy rabbit from a crying baby or as she stretches herself across the top of an immense beach ball. When Sheila doesn't share, her awareness narrows to herself and her possessions; she shows fear, anger, and an aggressive defense of her turf. But she smiles and relaxes when she is able to give–cheerfully distributing bits of dry cereal to her sister, green beans to the family terrier, and, in two especially cozy drawings, a hug and a kiss to her grandmother. It's Nana who shows her grandchild that not sharing is hurtful and that sharing gives Sheila a different and happier kind of power. This is a funny, non-preachy look at a toddler's wrestling match with her survival instincts.
or
Not Currently Available for Direct Purchase