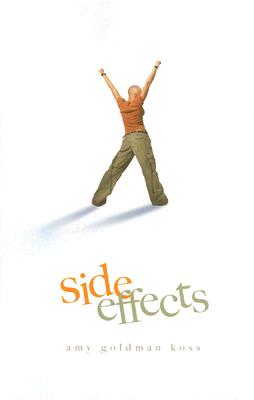 Side Effects (Hardcover)
Roaring Brook Press, 9781596432949, 144pp.
Publication Date: October 3, 2006
* Individual store prices may vary.
or
Not Currently Available for Direct Purchase
Description
As if it doesn't suck enough to have cancer, practically every time you pick up books or see movies where characters get sick, you know they'll be dead by the last scene. In reality, kids get all kinds of cancers, go through unspeakable torture and painful treatments, but walk away fine in the end. From the acclaimed author of The Girls and Poison Ivy, Side Effects is about the pain, fear, and unlikely comedy of 15-year-old Izzy's journey, told in her own powerful and authentic voice. It is Izzy's story--screams and all.
About the Author
Amy Goldman Koss is the author of "The Girls," an ALA Best Book for Young Adults and Quick Picks selection, and "Poison Ivy," called "fascinating and intriguing" by Publishers Weekly. She lives in Glendale, California.
Praise For Side Effects…
"At once acerbic and warm-hearted, Koss's novel offers a first-person account of a 14-year-old's grueling ordeal. . . . Though Koss lets readers know in advance that Izzy will pull through, the teen's candid, often comical narrative will involve them deeply in her adjustment to the drastic changes that come with her illness and treatment. . . . This tale will certainly open readers' eyes to the tribulations of young cancer patients and how to offer support."—Publishers Weekly
"Vibrant and authentic, Izzy's narrative voice is unique and refreshing, as is Koss's unforgiving look at a topic that too often has no happy ending."—Voice of Youth Advocates
"A problem novel that's nicely paced and easy to read. . . . The book has realistically typical teenage characters and apparently solid research into various Children's Hospital patients and their treatments, but it's not too heavy, complex, or long."—School Library Journal
"Hilarious and harrowing by turns, Koss tells the story of an artistic 14-year-old girl whose garden-variety life goes bizarre when she's diagnosed with Hodgkin's lymphoma. . . . Precisely voiced, funny and genuine, giving the reader a multifaceted look at a devastating experience."—Kirkus Reviews
Advertisement