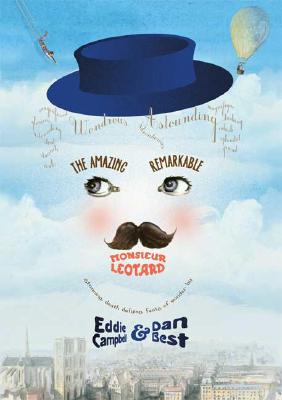 The Amazing Remarkable Monsieur Leotard (Paperback)
First Second, 9781596433014, 128pp.
Publication Date: August 5, 2008
* Individual store prices may vary.
or
Not Currently Available for Direct Purchase
Description
'He flies through the air with the greatest of ease – the daring young man on the flying trapeze!'
Step right up, Ladies and Gentlemen, for a glorious spectacle of graphic literature beyond your wildest imaginings, in which young Etienne discovers that replacing his uncle as the Amazing Remarkable Monsieur Leotard, world-renowned acrobat and head of a circus troupe, is every bit as difficult as it appears to be.
Etienne is swept up in wonder and work even as he struggles to keep up his grandiose façade, while every day his chances for happiness slip further away. For Etienne, taking a stand for his own happiness is as daring as any trick the Amazing Remarkable Leotard could perform.
Eddie Campbell and Dan Best bring to life the historical story of the daring young man on the flying trapeze in a tale filled with wonders and marvels.
About the Author
As Campbell fans worldwide might expect, it's not enough for him to give us a breathless adventure, he's at his characteristic mischief, piling on wry allusions and hidden wonders in every page. Take for instance these various circus acts, the elastic woman, the man of fire -- here are the prototypes of every classic comics superhero. Leotard's first company is even called "Le Quartette Fantastique"! And watch the very end for the last Leotard circus show, when in 1932 Ohio, two Jewish kids in the audience are busy drawing the circus Strongman, in his tight fitting leotard and flowing red cape.... Eddie Campbell is the acclaimed artist behind From Hell, for which he won the Ignatz award for Outstanding Graphic Novel and the Eisner award for Best Graphic Album. In 2001, From Hell was made into a major motion picture starring Johnny Depp.
Praise For The Amazing Remarkable Monsieur Leotard…
Review in Booklist
Campbell is perhaps best known for illustrating Alan Moore's acclaimed From Hell (2000), but the comics he writes as well as draws are equally accomplished if less monumental.  The strongest, such as The Fate of the Artist (2006), are quasi-autobiographical, while recent, more fanciful excursions have a cockeyed charm.  Case in point; this whimsical chronicle of young Etienne, who assumes his uncle's identity as Monsieur Leotard, the original Man on the Flying Trapeze, as well as the leadership of his uncle's motley traveling circus.  Etienne leads the troupe, which includes a quartet of performers reminiscent of a superpowered foursome that would hit the comics pages a century later, in a series of adventures coinciding with such epochal events as the Siege of Paris and the wreck of the Titanic.  Campbell's deftly casual watercolors are as delightful as the freewheeling story, and his formal playfulness matches the tale's whimsy, with action occurring on the margins and outside the panels and pages incorporating everything from ersatz newspaper accounts and sheet music to Etienne's childlike notebook drawings.  –Gordon Flagg
Review in Voya 4Q 2P
The remarkably athletic Jules Leotard, the inspiration for the popular song "The Man on the Flying Trapeze," dies on page thirteen of this multi-layered graphic novel.  Enter his charming young nephew, Etienne, who assumes his famous uncle's identity.  Etienne's life takes on a surreal quality as he travels with a unique circus troop populated with characters who have strong resemblances to modern-day superheroes – "Le Quartette Fantastique" being the best example.  Etienne records in his journal those whom he meets – P.T. Barnum, Queen Victoria, Buffalo Bill Cody – and where he travels – Paris, Devil's Island, a voyage aboard the Titanic.  His life, one of excitement and adventures, is also one of missed opportunities and heartbreak.  Etienne dons his "leotard" one last time to perform in Cleveland.  Etienne is possibly about to be immortalized, as he is sketched by someone in the audience a boy named Joe who is likely Joe Schuster, one of the creators of Superman. 
This graphic novel reads much better the second time.  Initially the loose impressionistic illustrations, difficult to read lettering, and inconsistent time line can make for a frustrating read.  Upon rereading, the story's humor and irony become evident.  With closer inspection of the uneven artwork, one discovers that the various styles and formats are intentional and symbolic of what is going on in Etienne's world.  To fully appreciate this book, it is necessary to have knowledge of history during the twentieth century, thus limiting the teen audience.  – Lynne Farrell Stover
Review in School Library Journal
Gr 10 Up–Etienne, nephew of Jules Leotard, "The Man on the Flying Trapeze," inherits his uncle's blank book and false mustache and creates a new life for himself built on his uncle's reputation. The story is organized into episodes, each a collage of images and text, imaginatively composed to tell the story. Captivating images fill pages, sidebars, and panel sequences. A spread of sheet music for the song "The Man on the Flying Trapeze" serves as the background for images of Leotard performing his acrobatic act across the page. Four square panels in the center of other pages tell the story, while exquisitely rendered background images of the Eiffel Tower, the Titanic, and other locations serve as settings for the action taking place. The story is also a strange montage of historical events including the Prussian siege of Paris and the sinking of the Titanic, historical figures such as John Sanger and Buffalo Bill, lyrics from old songs such as "After the Ball Is Over," numerous puns, and clever asides. With so many events, characters, and side references, this book requires follow-up readings to appreciate the story fully. A rather whimsical cover may give the impression that this is a book for young readers. However, references to historical figures and events, quotations from Nietzsche and Longfellow, as well as a running joke involving an aspect of female anatomy make it better suited to more mature readers.–Barbara M. Moon, Suffolk Cooperative Library System, Bellport, NY
Advertisement