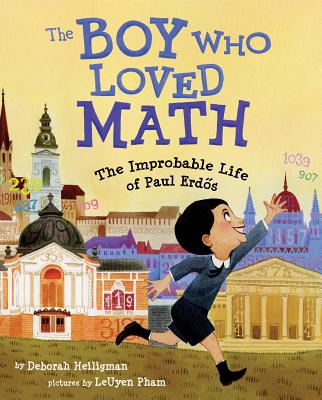 The Boy Who Loved Math (Hardcover)
The Improbable Life of Paul Erdos
Roaring Brook Press, 9781596433076, 37pp.
Publication Date: June 25, 2013
* Individual store prices may vary.
Description
Most people think of mathematicians as solitary, working away in isolation. And, it's true, many of them do. But Paul Erdos never followed the usual path. At the age of four, he could ask you when you were born and then calculate the number of seconds you had been alive in his head. But he didn't learn to butter his own bread until he turned twenty. Instead, he traveled around the world, from one mathematician to the next, collaborating on an astonishing number of publications. With a simple, lyrical text and richly layered illustrations, this is a beautiful introduction to the world of math and a fascinating look at the unique character traits that made "Uncle Paul" a great man.
A Kirkus Reviews Best Book of 2013 A New York Times Book Review Notable Children's Book of 2013
About the Author
Deborah Heiligman has written numerous books for young readers, including Charles and Emma: The Darwins' Leap of Faith, a National Book Award finalist. She lives in New York City. LeUyen Pham has illustrated dozens of books for kids, including God's Dream by Archbishop Desmond Tutu, Freckleface Strawberry by Julianne Moore, and her own Big Sister, Little Sister.
Praise For The Boy Who Loved Math: The Improbable Life of Paul Erdos…
"Erdos's unconventional brilliance shines through on every page, and extensive author and illustrator notes (including Pham's explanations of the mathematical concepts she works into each illustration) will delight readers with even a fraction of Erdos's interest in math." --Publishers Weekly, starred review
*"An exuberant and admiring portrait introduces the odd, marvelously nerdy, way cool Hungarian-born itinerant mathematical genius." -- Kirkus Reviews, starred review
 "An infinitely creative and entertaining book." -- The Horn Book 
"Pair this with Don Brown's Odd Boy Out (BCCB 10/04) to compare genius eccentricities, or hand it to middle-grade lovers of math puzzles—opened to the notes." -- BCCB