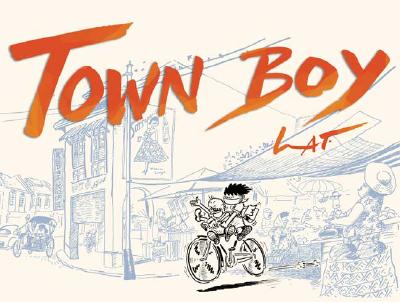 Town Boy (Paperback)
First Second, 9781596433311, 191pp.
Publication Date: October 2, 2007
* Individual store prices may vary.
Description
Malaysian teenager Mat makes a life-changing move from the quiet kampung where he was born to Ipoh, the rapidly industrializing nearby town. Living far from his rural roots at a boarding school, he discovers bustling streets, modern music, heady literature, budding romance, and through it all his growing passion for art.
The companion novel to the critically acclaimed "Kampung Boy," "Town Boy" offers more of Lat's delicious storytelling and enchanting pen-and-ink artwork. At once exotic and familiar, his cartoon world builds a bridge for readers into another world, another culture, and another time.
About the Author
One of the most beloved cartoonists in Southeast Asia, Lat published his first work when he was just thirteen years old. He has received numerous awards, including, in 1994, the prestigious Malaysian honorific title Datuk. Most recently he was honored by the Malaysian Press Institute with their Special Jury Award, given to "those who have contributed significantly to journalism and society and have become an institution in their own right." "Town Boy" is his second book to be published in the U.S., the first being "Kampung Boy," which continues to garner praise and honors.
Praise For Town Boy…
Review in August 2007 issue of VOYA
5Q 2P
Through text and illustrations, ranging from single panels and multiple panels to two-page spread, Lat continues the story he began in Kampung Boy (First Second/Roaring Brook, 2006 VOYA October 2006). For school, Mat has moved from the Malaysian countryside to the city Ipoh in the late 1960s. At first, he is living in the school hostel until his family moves into the first housing projects in the city. Mat is befriended by Frankie, a classmate who shares his love of 1960s American rock'n'roll music. Mat's artistic ability allows the opportunity to spend the day with Normah, the prettiest girl in Ipoh. By the end of the book, Frankie is going to London to continue his studies, and Mat is trying to find a job to help his family and hoping to use his artistic skills.
Lat details ordinary teenage life to which any reader will be able to relate, including friendships, school, music, movies, and girls. The cartoon-like, black-and-white ink artwork has warmth and fondness portrayed with every stroke. Although the artwork is not too detailed, some of the background is peppered with humorous images. For example, a paper merchant builds his car out of paper. Lat is a famous cartoonist in Malaysia with many honors and awards. An American audience now can have the pleasure of Lat's work, which was originally published in 1980. This graphic novel deserves to be read widely, but it will require pushing for readers beyond graphic novel enthusiasts. —Kristin Fletcher-Spear
Review in September First 2007 issue of School Library Journal
Gr 5 Up— The follow-up to the critically successful Kampung Boy (Roaring Brook, 2006), this volume spans an equal number of years but with a less-successful focus. When Mat is 10, his family moves from the kampung to the town of Ipoh, and he has to adjust to the new environment. He meets Frankie, a Chinese boy his age, and is introduced to American rock-and-roll and mild rebellion. Readers then transition to 1968 where Mat is a well-acculturated teen, balancing being cool and getting decent grades, and is attracted to the prettiest girl in town. This volume strays from anecdote to wistful remembrance without any real sense of direction. While the large, silent depictions of the town, burgeoning with nascent industry and Westernization, are atmospheric and quite informative to one who has the visual literacy to decode them as historical depictions, the narration provides readers with almost no helpful context for interpretation. It finds itself content to flit between amusing moments without any real development, save for nods to the fact that Mat is a talented artist — which, it is implied, eventually allowed the author to bring readers this volume. Sweet but meandering, the visual details and charming cartooning fail to provide sufficient cogent substance to make this a successful sequel.—Benjamin Russell, Belmont High School, NH
Review in September First 2007 issue of Kirkus
Picking up where Kampung Boy (2006) left off, adorable Mat is now ten years old and has moved from his small village to the bustling town of Ipoh. He and his new best friend — Freddie, a young Chinese boy — are bonded instantly by their love of rock-'n'-roll music. As the narrative follows the boys through seven years of their friendship during the 1960s, the pair faces the usual trials and tribulations of teen life — like girls and schoolwork — portrayed through lavishly ebullient cityscapes. Lat uses text sparingly and juxtaposes it in smart synchrony to the illustrations, providing ample time to linger over the details. As in his earlier work, Lat's eye for perspective dazzles, firmly thrusting the reader into his richly composed settings. The meticulous renderings of the boys' childhoods make way to boxier, controlled scenes as the boys age. Though well-done, there is little explanation of the Malaysian words or customs throughout the narrative, and fonts change often and without explanation, both of which may be disjointing to readers. While visually stimulating, this volume is less charming and captivating than its predecessor. (Graphic novel. 12+)
Review in September 1st 2007 issue of Booklist
This sequel to Kampung Boy (2006) takes up the Malaysian cartoonists memoir in the 1960s, at the point where he arrives in Ipoh to continue his education at a boarding school. Lat's family moves to town as well, but Lat focuses more on his social life than his studies or his parents. Ipoh is a multicultural place, and Lat's friends include Indians, Chinese, and other south Asians. His best friend, Frankie, is ethnic Chinese, and with Frankie by his side, Lat learns about record players, cheating at PE, and how to ask a girl to the movies. Page layout is more varied than in Kampung Boy. There are still many full-page illustrations, and Lat continues to depict himself as a mop-topped, bandy-legged kid, but there are also intervening passages laid out in panels and some wondrously detailed crowd scenes that consume entire spreads. Occasionally, characters speak in their native languages, which remain untranslated, but this won't get in the way of the reader's enjoyment; it simply adds another dimension to Lat's impressive world building.— Francisca Goldsmith
Review in the November 2007 issue of The Bulletin of the Center for Children's Books
At the end of Kampung Boy, Lat's memoir of his early years in the Malaysian tin-mining country, our ten-year-old protagonist had just headed off to boarding school in town. This narrative of his secondary-school years describes his teenagerhood in the town of Ipoh, where his family moved shortly after their son started school there. In school, Mat, as he's known here, becomes close friends with music-loving Frankie, and the two kids variously pelt or saunter, depending on which side of their growth spurt they're on, about the teeming town, sometimes accompanied by "the boys," other back-row sitters in Mat's beloved art class. The text describes a recognizable adolescence of hanging out with friends, longing after a beautiful girl, and surviving dorky school experiences, all set here against the background of a tumultuous '60s that most affects the protagonist through the waves of exciting music coming his way; amusing episodes range from the predictable response when the art teacher tells the class that naked women are art to the boys' outing at a dance hall (interest in the opposite sex is an authentic leitmotif). It's the art, however, that makes it art: the frenetic town scenes present a hundred different human dramas in every spread, and the figures radiate personality, with wannabe high-school cool oozing from the boys as they slouch bow-legged in pairs and packs through the streets (Mat's growth spurt gives his body new verticality, but his hair remains determinedly horizontal as a stepped-on bird's nest, making him easy to pick out in group views). This will be an obvious winner for fans of the first title, but the graphic-style narrative of adolescence will also entice those readers who enjoyed Schrag's Stuck in the Middle.