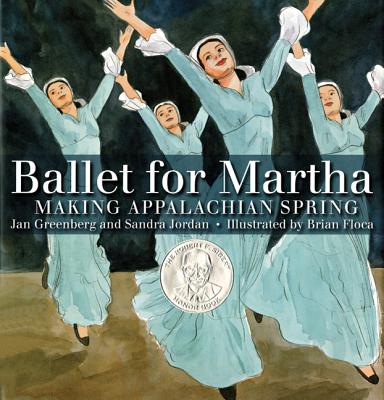 Ballet for Martha (Hardcover)
Making Appalachian Spring
Flash Point, 9781596433380, 48pp.
Publication Date: August 3, 2010
Description
A picture book about the making of Martha Graham's Appalachian Spring, her most famous dance performance
Martha Graham: trailblazing choreographer
Aaron Copland: distinguished American composer
Isamu Noguchi: artist, sculptor, craftsman
Award-winning authors Jan Greenberg and Sandra Jordan tell the story behind the scenes of the collaboration that created APPALACHIAN SPRING, from its inception through the score's composition to Martha's intense rehearsal process. The authors' collaborator is two-time Sibert Honor winner Brian Floca, whose vivid watercolors bring both the process and the performance to life.
About the Author
JAN GREENBERG and SANDRA JORDAN are the authors of many distinguished books about art, including ACTION JACKSON and CHRISTO AND JEANNE-CLAUDE: Through the Gates and Beyond. Ms. Greenberg lives in St. Louis, MO. Ms. Jordan lives in New York, NY.BRIAN FLOCA has written and/or illustrated over a dozen books, including MOONSHOT: The Flight of Apollo 11 and LIGHTSHIP (Sibert Award Honor Books). A native of Texas, Brian lives in Brooklyn, NY.
Praise For Ballet for Martha: Making Appalachian Spring…
"This splendid behind-the-scenes story succeeds on all counts….Intelligent and inspiring, [it] makes tangible the glory of true collaboration."  —San Francisco Chronicle 
Ballet for Martha" offers a close-up look at the creative process. It's also a rare glimpse into collaboration...Greenberg and Jordan clearly value a good partnership, having worked together for many years. Their impressive alliance is further boosted here by Brian Floca's line-and-watercolor illustrations; his expressive portraits and scenes are as appealing as the well-chosen details of the narrative." — The Washington Post
"Using spare, concise sentences, the authors echo Graham's approach to dance: like the movements in her choreography, nothing is wasted, and in such exactness lies the beauty….Floca's fluid, energetic line-and-watercolor illustrations echo the plain boldness of Graham's choreography and make readers feel almost as if they were present at the inaugural performance of Appalachian Spring at the Library of Congress in 1944…[a] remarkable book." —
Horn Book Review (STARRED)
"In this book…disparate elements come together. Matching the mood of Graham's moves, the writing is pared down but full of possibilities. Floca's ink-and-watercolor artwork nimbly shifts from the prosaic (Copland reading Graham's script) to the visionary (a bride and groom on the open prairie) to the several-spread finale of the ballet itself. The book as a whole beautifully captures the process of artistic creation…what readers will surely want after putting this down is to see and hear Appalachian Spring for themselves." —Booklist  (STARRED)
"Through the use of active sentences in the present tense and brief quotes, the authors convey the excitement and drama of the creative process and the triumph of the ballet. Floca, a multiple Sibert Award honoree for his prowess in depicting the technical worlds of spaceships and lightships, here uses watercolor and pen-and-ink in a glorious depiction of modern dance movement, with its quiet hand gestures, dramatic leg kicks and the swirl of dancers "fluttering, skittering, reaching up to the sky." A stunning achievement." —Kirkus (STARRED)
"Greenberg and Jordan continue to carve out their art-focused niche with this inspired book about collaboration.... In spot art and full-bleed scenes, Floca's muted, elegantly composed watercolors capture Noguchi's avant-garde set and the posture and movement of the dancers. Capturing the drama of dance, music, and stage design in a two-dimensional format is no easy feat, but this team does it with a noteworthy grace of their own." —Publishers Weekly (STARRED)
"If Martha Graham's choreography for 'Appalachian Spring' was a 'valentine" to the world, as critics wrote in 1944, then this book is a love letter in return. Simple, poetic prose tells the story of the creation of one of the world's most-loved ballets and compositions, and Floca's graceful watercolor illustrations take admirers through every part of its development...The authors researched extensively but found a way to crystallize all of the information into a gem that is approachable for young readers." —School Library Journal (STARRED)
"The dancers all read the advance copy of Ballet for Martha and were charmed, thrilled, blown away, delighted, etc, etc! We all love it!" —Janet Eilber, Artistic, Director of the Martha Graham Center
Advertisement